WLG Athletes of the Month
At the Workout Like A Girl Fit Camps we focus on the process, NOT product, goals. We strive everyday to challenge our bodies and minds. Our philosophy is that you can attain anything goal you want, if you want it bad enough. Each month we highlight an athlete that has set goals and one by one is hitting them out of the park. Started in September 2013, we will continue to post more each month, so stay tuned. Please read their inspirational stories below.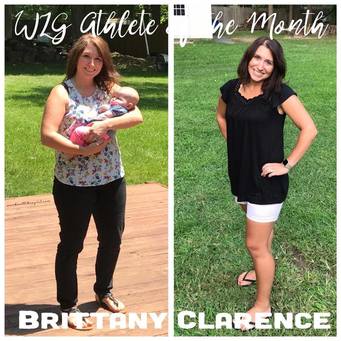 September 2017
I am so pumped that Brittany is WLG Athlete of the Month. From one mom of a infant to another - the struggle is real. The struggle to find even 15 mins alone is hard... Let alone the consistency to make scheduled workout times happen. BUT she is doing it. Not only with one but TWO little ones! I am so proud of her commitment to making herself a priority in spite of all the challenges that could get in her way. Brittany even participated in the 100 miles in July as well as the Abs Challenge and she WON! She comes to class with a smile on her face and gives each and every training session 100%. She is truly an example for family and those precious little girls! Congratulations Brittany! You deserve it! Love, K xoxo

Here's Brittany's story in her own words....
I was honored and shocked when Kendra asked me to represent Work Out Like a Girl for September. My initial response was, are you sure? I am not where I want to be yet…. But she said, that was not the point; it's the journey. So here is mine….

I was always active growing up, very involved in sports with a pretty competitive side. When I went to college, I gained some weight but it wasn't really until after college when I started working full time, I noticed my body changing. I wasn't working out as much and I was making poor nutritional choices, thinking it wouldn't really affect me THAT much – right? So not true. The older you get, the harder you have to work at it!

Not happy with myself, I tried Beach Body Insanity, but that didn't last. I tried Jillian, that didn't last. I started running but eventually lost interest in that. I had a gym membership that I was occasionally using. Then a friend mentioned WLG in the Summer of 2014. I remember my lap around the building and realized how out of shape I had gotten. After my first class, I told myself I was definitely coming back. It was extremely intense but was the motivation I needed. I even signed up for the 100 mile challenge in July, but injured my hamstring and couldn't finish. By the end of Summer, I found out I was pregnant with my first and didn't return to class until September 2015 for the Fall Challenge (I had major mom guilt because she was at daycare, and didn't want to spend anymore extra time away from her). I then did the Spring Challenge in 2016 and by the end of that, it was the best I had felt in years! I had great motivation going into Summer and signed up for the 3 A's challenge BUT then found out Baby #2 was on the way. I tried to work out but had really bad headaches with her and let exhaustion get the best of me.
Flash forward to 2017 – I now have a 2-year-old & almost 7-month-old. I have scattered sleep and feel like I am constantly on the go BUT how many others are in the same boat? I told my husband, "I just want to feel good about myself again." I didn't want to have any more excuses so, I signed up for the 3 A's and won the Ab challenge. I also did the 100 mile challenge in July and completed it! I was determined to finish it this time, even if that meant getting up at 430 am to run or going right after work before picking my girls up from daycare.

I want to be healthy, I want to feel strong … it's a constant battle to make the right decision and there are definitely times I chose easy & convenient, but it's something I am going to continue to work at. My journey is nowhere near the end – I will keep chipping away at goals I set for myself. WLG helps tremendously! Seeing all kinds of athletes come out to class to push themselves, and offer up support to others, is amazing! It pushes the competitive side (I have with myself) to keep going and work harder! I'm ready for the next challenge!
​
- Brittany, WLG Athlete
---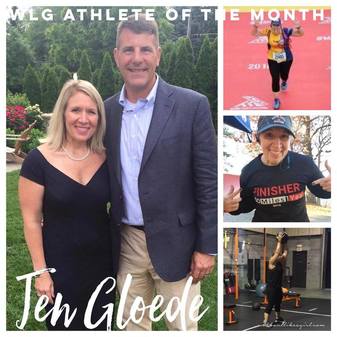 August 2017
I met Jen during the Summer Strong Challenge. Right away I noticed her energy, passion and determination during her training time. Regardless of the weather or class time (5am) she was consistent, strong and motivated! We are so pleased she has found her home at WLG and that she chooses to challenge herself week after week with us! We are the lucky ones to find such class inspirations within our beautiful community! Congrats Jen! You deserve it!
Here is Jen's story in her own words...

Growing up, I was never very athletic. I played in a few sports in elementary and middle school, but didn't play any in high school or college. It wasn't until I was in my early 20s that I even started to care about health and fitness. And even then, I had a love/hate relationship with it. Working out when I was loving it, and being a couch potato when I wasn't.

In my mid 30s though, my love started to outweigh the hate. I started out with just doing fitness videos (Jillian Michaels' 30 Day Shred anyone?). I was dating my now-husband. He was in the Army, and we spent a lot of time apart thanks to deployments. During this time, I managed to drop quite a bit of weight by eating healthy and doing Jillian, Insanity and P90X programs. Those worked well for me since I traveled a lot for work.

We got married and moved out to Colorado. I fell in to the trap of getting comfortable again, and my weight slowly crept back up – the ebb and flow of my life. Thanks to a picture that was taken atop of Pikes Peak, I realized how much weight I had gained. And again, I vowed to do better.

I think I discovered my passion for fitness a few years after the birth of my daughter in my late 30s. I started running – several half marathons over the last couple of years. I started lifting weights. I started caring about what I ate; food will always be a struggle for me, but I at least track it. My motivation? I want my daughter to grow up and have a positive outlook on exercise, food and her body. I want her to love exercise because she loves her body, not because she hates it. I don't want her to get caught up in the yo-yo cycle that has plagued me for most of my adult life.

When we moved to Kent Island, I heard about WLG. And while I was confident in my abilities, I was intimidated to go on my own. So I kept doing my own thing with lifting and running. I ran my first full marathon, Marine Corps Marathon, this past October. And after that, I was just burned out. Tired of running. Tired of doing the same thing week after week.

Then this past spring, a friend asked if I wanted to try the spring challenge at WLG. I did. And I became addicted to the intensity of the workouts and felt silly for being intimidated before. I loved seeing a workout on the board thinking it was "easy." Only to find out about 10 minutes later that it was going to kick my butt…again. I loved leaving the gym dripping in sweat. I loved it all so much that I started going more often over the summer. And I was disappointed when I had to miss a workout when life got in the way. WLG really helped me reignite the passion I've felt this last decade and pulled me out of a rut I was starting to fall in to.
​
It's funny when Kendra called me and asked me to be the Athlete of the Month my first instinct was to downplay my abilities and shy away from the word "athlete." I mean I see the caliber of people who are paying their dues in the gym next to me. How can I measure up to them? I stopped myself and realized that someone will always be stronger than me. Someone will always be faster than me. Someone will always be better than my better. But my goal in this life is to just focus on my better and be better than I was yesterday. Sometimes I am successful; sometimes, I am not. One thing is for sure though – I will never stop trying.
- Jen Gloede, WLG Athlete


---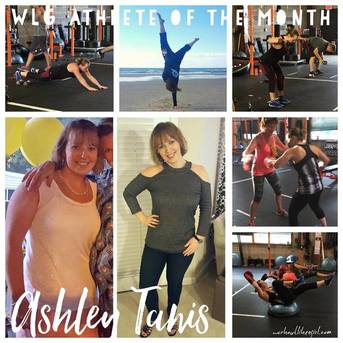 July 2017

This girl. Well, simply put. I adore her. She makes class time beyond fun with her sarcasm, wit, athleticism, dance moves and most of all the double pony. When that comes out.. it's GO TIME! Ha! All kidding aside she is amazing. Ashley joined WLG during our Fall 2016 Challenge. I noticed her right away in our kickboxing class. She was quiet but could punch and roundhouse kick like nobody's business. She brings her A-game to each training session and that effort makes her a standout in class regardless of what the workout is! Congratulations Tanis <3 you so deserve to represent WLG this summer! Keep kicking @ss! xoxo K
Here is her story in her own words....
I've struggled with being chubby my whole life. I can remember my mom sewing extra buttons on my middle school field hockey skirt so it would fit. Battling the fluff continued into adulthood...I feel like if I even look at a cookie my pants don't fit. I've been working out regularly for the past 10+ years doing different workouts and videos, but it wasn't until WLG that I found the fit life. I joined WLG for the 2016 Fall challenge and ended up winning 2nd place. It made me realize what I'm capable of and that I could get to a whole new level of badass-ery.
Since joining, I've developed a deep love for WLG. It definitely isn't easy, but that's why it works. I love how Kendra likes to use the word 'fun'....naps are fun, roller coasters are fun...feeling like your dying is not fun. To quote my man Inigo Montoya..."You keep using that word. I do not think it means what you think it means." But is it worth it? Hell yeah it is! Because you know what IS fun...being fit, being part of a strong community, and loving the changes you see in your body.
I've come to realize it's about pushing yourself further than you think you can go. During class, I may stop to take a breath or get my mind right, but quitting is not an option to me. I love leaving class with no regrets.
And never in my life did I think I would do an obstacle course race, but some WLGers convinced me to do the Savage Race with them and I ended up doing so much better than I thought I would. I had never run a race in my life, let alone an OCR, so I was in shock that I didn't end up in the first aid tent. Doing something you never thought you would do is amazing.
Trying to be healthy and fit is never easy, and it's a constant challenge, but it's worth it. Because you find your true self at the end of your comfort zone.
"If it wasn't hard, everyone would do it. It's the hard that makes it great." - A League of Their Own
Ashley Tanis, WLG Athlete

---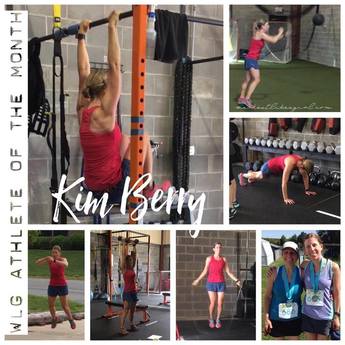 June 2017

I have known Kim for the past two years as our children participated in middle school events together. She is always bubbly with an amazing smile. To say I was excited when she said she was joining WLG would be an understatement. From the first class, she jumped in (literally) with BOTH feet. She gives each workout 100%... smiling the whole time! We at WLG are so proud she is part of the team! Thank you Kim for taking a chance on us <3You deserve it! Much love, K

Here is Kim's story in her own words...

Before I decided to take the leap and go to my first WLG class, I poured over the website to find out more about it. When I read the different stories from the WLG Athletes of the Month I was inspired and excited to go! When Kendra asked me to be the Athlete of the Month, I was completely surprised and so honored!!

I've always been an active person. I can remember as a kid doing Jazzercise videos with my mom in the living room and running around with my two sisters in the backyard from morning til night in the summer months. But, it wasn't until 1999, when a friend asked me to join Team in Training to raise money for the Leukemia and Lymphoma Society and run the Disney Marathon, that I really developed a love for running and training! So, my first race was a marathon…go big or go home! My sister and I have run countless races…10k's, ½ marathons, 25k's and even the Iron Girl Triathlon. And then there's my mom…my best friend and biggest advocate. She is always ready to come on an adventure with me and we've done lots of races locally and even Cape Cod and Virginia Beach! We will be doing the Zooma Annapolis 10k for the 9th time together on June 3rd. Because of the support of my family, I've always felt like I can accomplishment anything!

I had been hearing from friends over the last year about WLG and I wanted to try it but for some reason I was intimidated. I guess I thought people were all doing unassisted pull-ups and lifting hundreds of pounds…lol! Thank goodness I met Kendra when our kids were in a school competition together. She was so down to earth and her energy was infectious. She has a true passion for WLG and I had to be a part of it! I decided to join the WLG Summer Challenge 2017. I was still nervous when I showed up for my first 5am class but that quickly went away! I had been working out from home for the past couple of years and this was exactly what I needed to re-energize and challenge myself.

Some people will call me crazy, but as soon as my alarm goes off at 4:20am I can't wait to head over to class! I'm a wife and busy working mom of twin teenage boys but when I go to class that is my time. I own that hour and it is very empowering to be surrounded by a group of dedicated, strong women who motivate and support each other! The strides I've made in the last 3 months have been incredible. Thank-you Kendra, LaneAnn Blackburn Vanderlinden and Tracie Nelson. I'm just getting started!!

Kim Slater Berry, WLG Athlete

---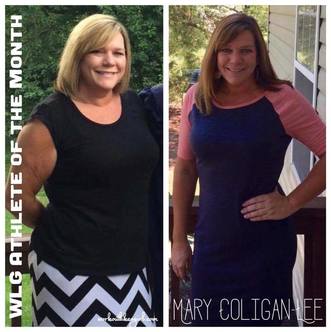 May 2017

I will always remember the day Mary came to her first class. She came with her daughter Kayla Cee, who was a current athlete at the time. She had that "deer in headlights" look the whole time. Not scared but more like "what the heck am I doing here" LOL. But she did it. And she did it again and again and again. She kept coming back and doing it. The change in her demeanor and the way she carried herself in class were tangible. She just seemed confident in what she was doing and that the beginning of the magic! And the apple doesn't fall far from the tree when you see her daughters too! Each of them possess a level of determination when they set them minds to it.
For a first in WLG history we have 3 athletes in the same family (mom and 2 daughters) making some serious changes in their lives. They LOOK amazing!!! <3 Congrats Mary on all your hard work! You and your girls simply glow! You deserve all the recognition for all you have achieved and continue to achieve!
xoxoxo K
I am honored to be Athlete of the Month, and honestly never thought I would be able to say that. I haven't been called an Athlete since my high school days!!

My story is similar to so many, so I will try to keep this short and sweet. I struggled with my weight for my entire adult life. I guess you could call me a "yo-yo dieter". I would try different things like weight watchers and other diet fads, only to lose 10-15 pounds, fall off track and gain it all back. I never truly committed to anything & having three kids with a full-time (night shift) job gave me those excuses I needed to 'fall-off' the bandwagon.

Fast-forward to a little over year ago and my youngest went off to college, leaving me with an empty nest and no more sporting/school events to attend. I found myself with more time on my hands—not only to "do" things but also to reflect. I didn't feel great about my-self and knew that something needed to change. This is where Work Out Like a Girl came into my life!
My daughter, Kayla, had been going to WLG for a while and finally convinced me to join. I am not going to lie, I was terrified. She assured me that there were athletes of all levels that attended and that the coaches would be helpful and accommodating, so I gave it a shot. She was absolutely right and my worries were all for naught. Kendra & the other coaches worked closely with me my first few weeks and were extremely accommodating. Getting that extra healthy time in with Kayla was the icing on the cake!
After about a month of taking WLG classes, the challenge rolled around and truly opened my eyes on the importance of planning—planning your meals, planning your workouts and planning your rest/recovery time. I ended up winning my age group! Finally, I was committed to this healthy lifestyle!
​
My other daughter, Kary, joined myself and Kayla at WLG and now it's a family affair ;) I absolutely love this extra time with my daughters, it is truly uplifting & inspiring to see your children working so hard to achieve their goals. Because of our time together at WLG, our family as a whole is more active—inside and outside of class. I can truly say that I am stronger than I have been my entire adult life—mentally and physically. I would like to thank all of my fellow athletes and WLG coaches for motivating and inspiring me to be the best me every day!
- Mary Coligan Lee, WLG/Ai Athlete
---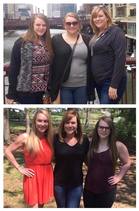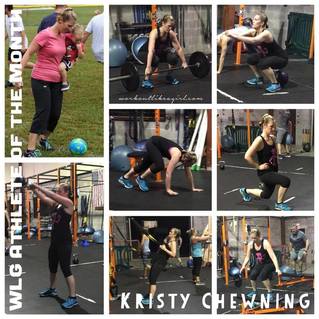 April 2017
From the moment I met Kristy, all I thought in my head was quiet, positive, and hardworking. She's always paying attention, gets right to work, and won't stop until she's DONE! Fast forward almost 1 year and a half later she hasn't let me down! We love having her in the 5am class and look forward to having her bright shining smile to start our days! Congratulations Kristy! You so deserve all the praise - keep up all the hard work
<3 Love K
Here's her story in her own words....
When Kendra approached me about being the April 2017 Athlete of the Month, I was so flattered but also a little embarrassed. I am in the process of getting back to where I need to be with my eating habits and my weight/measurements. The indulgences of the holiday season carried right on into January and February for me. I fell off the clean eating wagon, then the wagon ran me over and dragged me behind it. I was coming to class regularly but eating horribly and I packed on nearly 15 pounds and felt awful. Now, I'm in the middle of the 2017 Summer Strong challenge and working hard to get back to where I want to be. We all know that on this journey, there are times when we all falter. So, maybe that makes me a good example of getting back on track after you slip back into bad habits.
Growing up, I participated in sports and took dance, but by the end of college, I wasn't doing anything athletic on any kind of regular basis. As a 20-something, I would go through phases where I was active, joining a gym or taking a class here and there. I definitely didn't put much effort in and at most I was doing something active once or twice a week. Fitness was not a regular part of my life and definitely not a priority.
Fast forward to my 30s…after having my second son, I carried around 15 pounds of post-pregnancy weight for about a year without much guilt or concern for getting it off. Around the time my son turned one, my neighbor asked me if I wanted to start running in the evenings. I was not a runner but I agreed and we began running a few times a week. At first, my body responded to the running and I dropped some weight despite the fact that I continued to eat pretty much whatever I wanted. But after a while, the running just didn't have the same effect on my body and I knew if I wanted to get and keep the weight off, I was going to have to change my eating habits as well.
I first heard about Workout Like a Girl from my two best friends, Leslie Delabar and Suzanne Crawford. They were in the middle of the 2015 Fall challenge and were always talking about Kendra and points and bonuses. They convinced me to come check out the classes and to do the next challenge with them. I started coming to WLG classes in December of 2015 and I joined the 2016 Summer Strong Challenge. The first few weeks of the challenge were rough and I think the only word that could accurately describe me was "hangry" (hungry + angry). I honestly did not know if I could follow the eating plan. Those early classes were like torture. I was definitely not used to working out that intensely and my main focus each class was just to do the best I could and try to finish the workout. I loved the atmosphere of the classes – the music, the motivation provided by the coaches, and the focus of the other athletes. Seeing my two best friends at class was an added bonus. I (begrudgingly at times) stuck to the eating plan and continued coming to class about 3 times a week. I was very happy with my results at the conclusion of the challenge. Post-challenge, I stuck to a (mostly) clean diet and continued coming to class 2-3 times a week. I ran the 100 miles in July, which felt awesome considering it was the hottest July on record. I was able to maintain my results and level of fitness on through the holidays (when things went south!). Now, in the current challenge, I'm re-committed to clean eating, and am attending class 4 times a week and running when I can fit it in. It feels very good to be back on track.
As my fitness journey has evolved, I have learned a few things about myself. First, I can self-motivate when it comes to running. I don't need a buddy to go with me and I am willing to get out there and get it done without much convincing. On the flip side, when it comes to working out/lifting, I need to show up at a class where someone is expecting to see me and where someone is going to give me some direction and push me to put in the work. Perhaps the most shocking thing I have learned about myself is that I am a 5 a.m.-er. I still can't believe it myself. When Suzanne first starting advocating for a 5 a.m. class to be added to the WLG schedule, I thought she was crazy. As tired as I am already, how could I get up in the 4 o'clock hour, drive over the bridge and work out? But I get it now. Going to 5 a.m. class means my husband and kids don't even know I'm gone. I don't miss out on time with them and I don't feel guilty for taking time for me. I don't have to figure out how to fit in class between my kids' activities, dinner prep, helping with homework, etc. The workout is already done and over by the time my day really begins. Another bonus of 5 a.m. class is that my body is barely awake enough to know what is happening to it! Even though I dread the early wake up, I NEVER regret the workout when I'm done.
My main goal is and has always been to find a fitness routine that is realistic and that I can sustain long term. Like many others, I have a family, a full time job, and lots of commitments and responsibilities that require my time. For me, it is not realistic to say I will work out 7 days a week or that I will never eat out. I needed to find something that fit my schedule, fit my lifestyle, and didn't feel too extreme or rigid. Workout Like a Girl has provided that for me. I'm very grateful to Kendra, LaneAnn, Julie and my fellow athletes, for making it fun and keeping me motivated. I'm looking forward to attending Workout Like a Girl classes for many years to come, until I can qualify as a "golden girl"!
- Kristy Chewning, WLG Athlete
---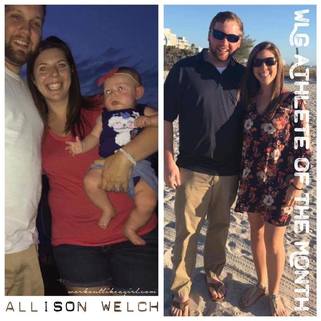 March 2017
​
So the first time I met Allison, it was not because she was taking a class but because she was the wife of another athlete Aaron. We all ran into each other in Safeway and she was a beautifully glowing mom-to-be at the time. In the summer of 2016 she reached about the Fall Challenge and later joined along with several of her girlfriends. Quickly I noticed the determination. She was a quick learner in class and kept her nose to the ground. In 12 short weeks she placed in the winners circle with a significant transformation in weight, inches and body fat!! She has proven to be an example to her friends and family that hard work does pay off. Both her and Aaron take turns from watching their gorgeous baby girl Palmer to sweat it out at the various classes we have to offer. They truly are a great team that know the value of sweat equity as Aaron himself was a contender in a previous challenge with an equally impressive transformation! Congrats Allison, your sweet smile and positive attitude are so deserving of taking this moment to appreciate the juggling act that you and so many people face - BALANCING LIFE! You look amazing!
-xoxo K

Here is Allison's story in her own words....

I was so surprised when Kendra called me and asked me if I'd be the March athlete of the month. I haven't been coming to WLG for that long and there are so many other athletes that come to more classes, have been there longer and are stronger than me. But the truth is these people inspire me to be better and to keep coming.

Growing up I played sports on and off but once I got to high school I quit. Then in college I'd go to the gym here and there but I had no clue what I was doing. I tried running but I hated it and it never lasted. Last year in January I had my daughter, Palmer, and at first I lost most of my weight but quickly gained it all back because I literally sat on the couch most of the day and ate whatever I wanted whenever I wanted to. Come July I hated the way I felt and looked. Something had to change and I decided I was going to sign up for the WLG Fall challenge.

I don't like trying new things and I had friends that had gone to Kendra's classes and told me how hard they were. Needless to say I was pretty nervous the first time I went. The first class was hard and it took everything in me to keep going. But the class ended and I didn't die! So, I went back again and again. I started eating better and started running outside of class. I remember when I got through a workout and had a few minutes left at the end to do what Kendra calls "dessert" it felt so good and I was so proud of myself. Her classes are addicting because the energy and the family atmosphere is unexplainable. Everyone is so nice and there is always someone there to cheer you on or help you if you need it. It's really become my "me" time. Some days I feel guilty for going to the gym and not being home with my daughter but I remember that I have to take care of me in order to take care of my family. If I am not at my best then I can't give them the best.

Thank you to those people that have supported me and continue to support me. So many family members and friends have offered to watch Palmer so I can get to the gym. My husband is always pushing me to go when I say I'll skip it. Thank you to all the WLG athletes for helping to create a welcoming place where anyone at any level can better himself or herself. Last but not least thank you to Kendra and Evan for planning killer workouts and pushing me to be my best. I am super excited for this summer challenge to continue my journey to a healthy lifestyle.

- Allison Welch, WLG/Ai Athlete
---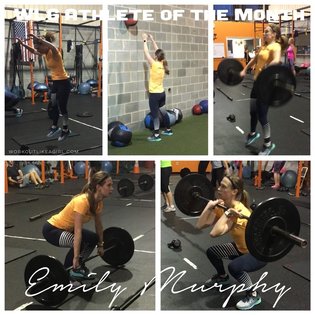 February 2017
​
The Athlete of the Month is always an exciting time here at WLG. It gives us a chance to pause for a second and acknowledge an individual athlete for the determination and consistency that makes them a stand out in class. They are leaders, whether loud and proud or quiet and strong. Regardless we look to them to set the pace. That is what Emily is to our 6am group. Strong, consistent, reliable, quiet and FIERCE! She is part of an amazing team of athletes within the 6am class that sticks together and keeps each other on pace! If she says the workout was challenging then I feel like it's a good morning! Thank you Emily for being the leader you are in class and representing WLG all the way in D.C! We are the lucky ones
- xoxo K
​
Here's Emily's story in her own words.....

I would say that I've always been active, it's just a matter of how active. Growing up I played a variety of sports. In college I played ice hockey, and after graduation I took up distance running.

WLG fell into my routine three years ago, and I've never felt more confident in my own skin. I choose to surround myself with people who challenge me in all areas of my life. I want to work with people who are smarter than me, and I want to workout with people who are stronger than me. There is nothing more motivating to me than to be surrounded by people who aspire for greatness and bring out the best in those around them. At WLG, I find athletes that do so every workout that I attend.

When Kendra asked me to be Athlete of the Month, I was surprised. I'm not the strongest or the fastest, but I can promise you that I'm dedicated. Like everyone else, life sometimes gets in the way - but my extreme love for food paired with my fear of weight-related health complications has me constantly coming back for more.

At the end of 2014, I moved from Kent Island to Washington, DC and WLG slipped out of my routine. I was frustrated and unhappy with my slumping confidence, so I decided that 6 am was MY time. If that meant I had to get up at 4:45 am to get to class on time, then that is what I'd do.

My career causes me a decent amount of stress, and 6-7 am is the hour I can completely focus on working on myself. WLG workouts are some of the hardest I've ever done and it shows. Over the course of three years my weight has fluctuated 20 pounds; and while being active to me isn't about weight loss, it certainly is an added bonus!
To anyone who is scared to attend their first WLG class, I say GO! Don't let your fear get the best of you. At WLG you can find your own challenge, work with dedicated people to overcome it, and feel confident in the results. Your mind and body will not regret it (for long at least). To everyone who already attends, thank you!! You inspire me to push through every single workout, and to always come back for more.

-Emily Murphy, WLG Athlete
---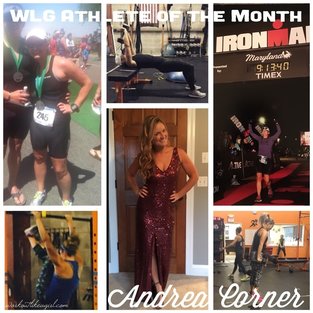 January 2017
I can remember meeting Andrea for the first time. Funny thing, it wasn't even at a WLG class but through a mutual friend Samantha Abrams Gilmore. What you see is what you get. Happy, beautiful, positive, determined and SMILING. All. The. Time. Her training is no different. She brings a level of positivity and consistency that I love and it's infectious! Plus it's not hard to make her laugh as well! You are a hard worker. Nose to the ground. No chit chat. It's her hour and she makes it count every damn day! Congrats Andrea! You deserve all the praise! xoxox K

Here's Andrea's story in her own words.....

I am humbled to be chosen the January Athlete of the Month. WLG has surrounded me with some of the strongest, most athletic and tenacious women I've ever met. So really, I'm completely honored to represent WLG. Thank you, Kendra.

My family transplanted to Centreville from upstate New York in 2012. At the time, I had no exercise routine. My life consisted of chasing 2 babies around the house, working a full time job, and having a husband that commuted across the bridge to work, which meant excuse after excuse of why I couldn't workout. I knew back then that I wasn't happy with the way I looked or felt and knew I needed a change. I can remember my first goal was to run to the end of my road and back which was about 2 miles. When I reached 2 miles I signed up for my first 5k, and then it began. I signed up for 10Ks and Half Marathons. As I achieved my running goals, I kept creating new ones. In 2014 I added swimming and biking to my routine and before I knew it I was signing up for triathlons. I completed my first full Ironman in 2015, along with several half Ironman and shorter distance races. But something was lacking, and that was my strength. I had the endurance, but wanted to be stronger. Then WLG entered my life...

I knew from day one at WLG that this type of workout is exactly what I've been looking for. Kendra, Evan, LaneAnn, and Julie push me harder than I've ever been pushed. I have made several personal gains and have created and conquered personal goals. I can now do pull-ups without assistance. That was a huge goal for me! I had no idea I would reach that goal so quickly after starting WLG.

I completed my first 12-week Challenge with WLG this fall and went from 26% body fat to 20%. I lost 8 lbs. of fat and gained 3.5 lbs. of muscle. I am absolutely ecstatic with those results, but it didn't come easy and now have new goals to attain. 2 important things I learned during the challenge were 1) Food prep is essential. Every Sunday is food prep in our house. 2) You have to make time for yourself. With my busy life, I've found that the 5 am classes work best. It's early, yes, but it's MY time. No excuses.

4 years later, I look back and cringe at my pictures from when I started my fitness journey. But we all start somewhere. One foot in front of the other. Set small goals and achieve them.

Thank you WLG. Thank you for pushing me beyond my limits. Thank you for helping me achieve my goals and set new ones. Thank you for burpees (and more burpees). Thank you for the positive change you have made in my life, but most of all thank you for believing in every single one of your athletes. Kendra, Evan, LaneAnn, and Julie you are the reason we keep coming back for more!

Andrea Corner, WLG/Ai Athlete
---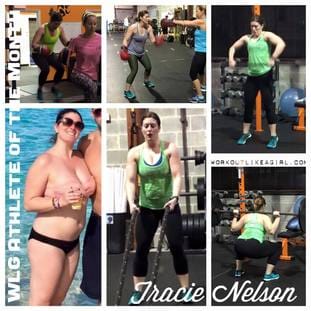 December 2016

Tracie is in the ZONE right now. Kicking @ss and taking names. She is in control of her life (training, work, school, balance) and it SHOWS!! 💪🏻💥 She is the first one to jump in to help a new athlete or tell the group "Come on! We got this!". 100% PMA - Positive Mental Attitude and its infectious!! I have watched her get stronger each and every class and we are so proud of the progress she has made. She walks the walk and talks the talk. As we say at WLG... "You have to want it". Well... She does! Congrats Tracie! Thanks for representing WLG this month!!! You deserve it! ❤️ K

Here's her story in her own words.....

When Kendra first asked me to be "Athlete of the Month" I couldn't believe it! My first thought was that there had to be someone who deserves this way more than me, someone in better shape, someone who is stronger, someone who works harder. I mean seriously, I am surrounded at least 5 days a week with some pretty amazing athletes, athletes much more amazing than myself, do I really deserve this? So I will start with saying that it is such an honor to represent the WLG/AI family as "Athlete of the Month" and that I intend to earn it!

My story? My story, fitness and otherwise, is long and has a lot of chapters and I will not bore you with every detail of my story that led me to this chapter. So, I can't remember exactly how I first heard about WLG but I knew I wanted to try it, Kendra was offering some sizzling summer savings in the summer of 2014 and I was in….well kind of...I bought the sessions but I never got up the courage to go to class. You see, I have a major fear of many things, change and walking into a room where I don't know anybody, are just two of them. So finally, I think it was September or October 2014 that I enlisted my friend Janie to join me for a class and I finally did it! I went to my first ever WLG class! That class was an experience, a humbling one, I really thought I was in shape before that first class, until halfway through I thought for sure I was going to throw up, but I was hooked! I went pretty religiously for the next few months and it was great! I made new friends, I felt great and I was constantly being challenged. Then a couple things happened all at once and there was a shift, I transferred from Chesapeake College to Salisbury and was now commuting to school 5 days a week Qand I sprained my ankle, this all happened in the spring of 2015 and it has taken me until now to find my balance.

In the year and a half since then I never stopped working out but I got lazy about it...and chubby, I became really good at making excuses for eating crappy and skipping workouts. I was tired, I commute to Salisbury, I have too much homework, and the list goes on. I also wasn't going to WLG as often either because, here's another excuse, I didn't have the money, it's funny how that works because I still had the money to do things like go out to dinner or happy hour. It wasn't until this semester was getting ready to start that something happened, it was like a switch flipped inside me. I knew that I was passionate about exercise and healthy living so that wasn't the problem, the problem was that I had lost the passion for myself.

So in August I bought some sessions because I wanted to gauge with my current class schedule how often I would be able to make it to WLG, well I used those 8 sessions in less than two weeks. So I bought the WLG membership because why wouldn't I? I also joined the challenge...again...this is the third challenge I have done as a WLG member but this one was different. I didn't join this challenge to win, I joined it for a little added motivation and the awesome Red Zone perk! I just knew this challenge would be different but I honestly never thought I was going to make the progress that I have. Now if I miss a 5am class my whole day is thrown off, if I don't get to throw down at boxing my week is no good, if don't get a good lift in at C3 I don't feel strong. I make these dates with MYSELF and I don't miss them, I have committed to MYSELF, I do this for MYSELF. I am constantly setting goals and evolving those goals. I made a promise to myself to never skip a rep because the best athletes never take a rep off and at the end of the day if I don't give it my all I have only let myself down.

So I'm going to stop talking about myself now and say that if you're reading this and feel motivated act on it! I'm not saying it's easy, it's actually really hard. It's hard to make good decisions when the people around you aren't, it's hard to get up and do that work out when your whole body aches, it's hard to always push yourself, but if you want it you have to dig down deep and do it! In the words of Kendra, "If it were easy everyone would do it." And when you decide to do it, find your "why". My "why" isn't to be skinny, my "why" is to be strong, to be healthy, to be a motivation, and to look like I deserve an exercise science degree. Then hold onto your "why" and use it when temptation arises, when you don't feel like putting on your shoes or getting out of bed. I want to say again what an honor it is to be "Athlete of the Month" and I intend to continue to earn it because I'm just getting started!

- Tracie Nelson, WLG/AI Athlete

---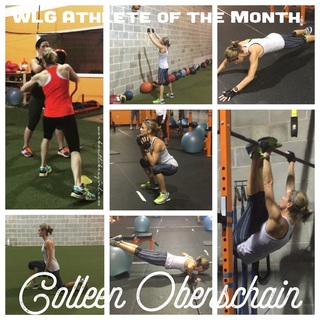 November 2016

Colleen and I first met while our children were in preschool together. She introduced herself one day at school and from the moment I met her I was a HUGE fan! She always has a smile on her face and her personality beyond warm and inviting. And when it comes to working out on the daily.... she's CONSISTENT and STRONG! Not just physically but mentally as well. She makes training a priority in her life. It's simply a non-option. That's an athlete. Those people motivate others. I love her presence in class because I KNOW I am going to get 110% of whatever is in the tank. She sets a pace for herself and does not stop moving until the job is done. I am so thankful she joined the WLG Team - we are the lucky ones. Congrats Colleen, you inspire us daily with your drive and are so deserving of this recognition! xoxox K

Here is Colleen's story in her own words....

Thank you, Kendra, for this recognition. I've thought long and hard about "my story," and the role fitness has played in it. And the truth is, mine is rather unremarkable. I have always been active. My "story" is not one of overcoming significant weight loss, or recovering from an injury, or being faced with a life-changing event. Nope. My "story" is my choice to make fitness a lifestyle.

As a child, I played outdoors with my sisters and neighborhood friends, and participated in gymnastics and swim team. While away at WVU, I walked a lot (the hills of Morgantown are no joke) and worked-out on my own. Now, as an adult, whether I'm exercising or simply opting to take the stairs at Target, I choose to move my body. Because, it is a choice… and it is mine!

Approximately five years ago, I began noticing changes in my body… what I ate and how I exercised wasn't cutting it anymore. At the time, I was going to the local gym and putting my young kids in childcare. It wasn't always great, but there was no way I was going to stop exercising. Fitness is too important… It's what keeps me sane and strong, and one of the only things I do for me! Plus, I want my children to know the value of it.

Meanwhile, I kept hearing about Kendra and this "awesome" WLG Fit Camp. I was very anxious to get there. So, when my husband's travel schedule changed in 2014, that's just what I did! I was hooked right away! Kendra's class is designed to challenge every athlete. No matter what their story is. The WLG format and pace is exactly what I needed… to be pushed outside of my comfort zone, to gain strength and encouragement from others, to make new friendships… and listen to great music the whole time!

While how I move and fuel my body has evolved (especially as I've gotten a little older), I still choose to move. I try to attend 2-3 WLG classes per week, plus boxing (which I love!). On other days, I go to the gym, do a Pinterest-style workout at home or get outside! Eating cleaner has played a more important role as well. After completing several 12-week challenges, I am more informed and more mindful of overall proper nutrition. The whole family is eating better too! In fact, my husband signed up for the Fall Challenge and is now taking C3. Good stuff!
​
I appreciate everything WLG has done for me and my family. Thank you so much!

Colleen Obenschain, WLG Athlete


---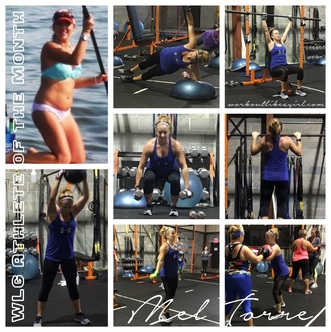 October 2016

I love me some Mel! I can remember Mel for the first time when she came to class. She did great! Worked hard, listened to instruction, moved well and was ready to make some changes to her training regime! Over the past 2 years she has continued to grow as an athlete, by pushing past her training limits and setting more and more challenging goals! It's awesome to see the drive and passion she has now for her training. It shows not only mentally but physically as well! Mel you would make an amazing ninja with those box jumps too! Love your face... Congrats girlie you deserve it! xoxo - K

Here is Mel's story in her own words....

WOW!! Is this really happening?! Never in a million years did I think I would be asked to be the "athlete of the month". Growing up I was never pushed to play a sport so I didn't. When it came to working out, I never really knew what to do. I started looking up exercises and "attempted" to do them but instead I would walk around, scroll through my social media news feeds, text people, try to find a good pandora station, walk on the treadmill, etc. Obviously it wasn't working so I tried taking bootcamp and spin classes and I fell in love. I needed someone to push me and one thing led into another. I kept hearing about "workout like a girl" but had no idea what it was. One day my friend Lindsay said she was going to WLG and I told her I'd meet her there. It was AMAZING and I have been hooked ever since. At the time, I was working about 60-75 hours a week bouncing between 2 jobs. It was hard to find time for the gym and there were times that I fell off the wagon but I somehow always managed to come back to WLG. It has been almost 2 years since I joined the team and I love it even more than I did the first day I started.

2016 has been one of the craziest years of my life and I didn't think I would make it through the year. Something very traumatic happened to me causing me to be out of work for 6 weeks and later being diagnosed with PTSD. I decided I needed to make a life change so I did. I refused to take any kind of medication so the gym became medicine and therapy. I joined as a monthly member to WLG on top of my club one membership and I signed up for the "straight A" challenge all summer but for some reason that just wasn't enough. My cousin told me about the "savage race" and asked if I wanted to join her team. I've never done anything like it! It's a 5 mile race with about 27 obstacles. SUUURREE I can do that?! At first, I thought "if I can't do one of the obstacles then I'll just walk around it." Then I told myself "ABSOLUTELY NOT! I'm going to complete this damn thing and I will do every single obstacle!" When I told Kendra about it she told me that I needed to master pull-ups. (I had no upper body strength at all!!!!). I looked at the calendar and I had exactly 2 months until the race. That night I went online and bought a pull-up bar and resistance bands. So here I go!!! Almost everyday I've done 3 sets of 12 pull-ups, I went to WLG Mon, Weds and Fri, C3 Tues and Thurs, Yoga on Saturdays and spin classes whenever I could get there. Some days I went twice a day depending on my work schedules. About mid August I quit my 2nd job for several reasons, one being I wanted to have more time for the gym.

The gym has many benefits for me. It relieves stress, gives me energy and gives me confidence. There have been many classes where the coach explains the workout and I immediately think to myself "there is no way I can do that" and then the hour passes and I've completed every single thing! It's tough but somehow we all get through it. Everyone in class is motivated and we push each other. We're more like a family then just a gym partner, we all stick together. I'm a hairstylist and a lot of our clients are WLG/AI members. I love that we can all talk about how awfully hard class was on "no suck Monday" or how sore our bodies are or "Are you going tomorrow? I'll go with you!!". It has now become a part of my life and daily routine and not a question of whether I feel like it or not. My favorite quote from Kendra is "wake up, put your gym clothes on and THEN decide if you're going to the gym or not." 99.9% of the time your A** will get to the gym and you won't regret it for a second! :) I'm in the best shape I've ever been in and I'll continue to get stronger every day! NOTHING IS GOING TO STOP ME! :)

Mel Torre, WLG/Ai Athlete
---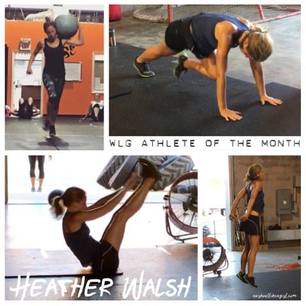 September 2016

In honor of all the hard working, dedicated, selfless, ever-giving, loving and passionate teachers out there, we chose an amazing educator for this time of year that we know as Back To School for Athlete of the Month! I met Heather almost 2 years ago and from the start she has been consistent with her training efforts. Steady, steady, steady. Gives 100% in class and it shows. She sets such a great example for her children and students. She is always positive and comes ready with a smile on her face! I love seeing her in class because I know she take her hour seriously. Congrats Heather! You deserve it!

Here is Heather's story in her own words.....

There are three main reasons exercise plays an important role in my life; my mental health, the desire to age as gracefully as possible, and to provide a positive example for my students.

The older I get, I've had 43 birthdays so far, the more I recognize the direct correlation between my mental and physical health. The better I take care of physical body, the more I enjoy everything else in my life. I have always been active. I played barefoot outside all day as a kid, worked out with Jane Fonda videos, leg warmers, and some close friends in my living room, and ran track in school. As an adult I practice Vinyasa yoga, run, hike, mountain bike...and Work out like a Girl. Being active makes me happy which is why I strive to be physically able to continue climbing mountains for another 43 years.

As a middle school teacher I have the unique opportunity to set healthy examples for my students. They know that I work out everyday, they see I drink water all day, they see me walking around eating fruits & veggies, and they know that I am happy.
The members of the Work out like a Girl team inspire me everyday with their dedication and encouragement. Thank-you Kendra for creating a positive, fun, environment for people to take care of themselves!!! Which reminds me of one of my favorite sayings, "Take care of your body, it's the only place you have to live."
​
Heather Walsh, WLG Athlete
---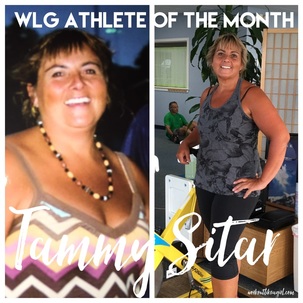 August 2016

I was introduced to Tammy just after the first of the year. From the moment she walked into WLG I could see she was driven. From one fitness instructor to another I totally understood the need to just be an athlete in a class. I had heard that she was tough from the athletes who took her spin classes - and she is T-O-U-G-H. No chit chat. No fuss. No whining. Just getting it done. And getting it done with 100% commitment to what she sets out to do. Not only did Tammy become a top competitor in the 12 Week Challenge Bonus Points King/Queen but she finished the 100 miles in the top 5 finishers for time. She's on a mission for herself and I LOVE IT! She's knocking this motivating others thing out of the park! Thanks Tammy for hanging out with us at WLG when you are not making your own athletes at IAC sweat! xoxo K

Here's Tammy's story in her own words....
I am honored to have been asked to represent WLG as Athlete of the Month when I'm surrounded by such strong women and men all the time! I wasn't sure what was involved and Kendra said to simply "just tell them your story and where you get your drive/inspiration from." My story is probably similar to many of you. I went to college, married, had children, went back to college and focused my life around my children's activities and other family needs.

While I didn't participate in sports growing up, as an adult I always seemed to be in some sort of exercise class, program or gym (Jazzercise, Curves). I was successful at times and other times, I would yo-yo back and forth with weight loss and gain. At some point as my kids were getting older, I decided that I wasn't satisfied with my physical self and needed to set a better example for my children and make myself a priority in my life. Unfortunately as mothers, we often lose sight of our own individual needs and allow life and circumstances to lead our lives, rather than lead and live our own life.

By this time, I was an active member of Island Athletic Club (IAC) and decided to increase my class attendance and other activities. Around the same time, the club offered a 30-day challenge. I've never been a person that needed anyone else to be motivated, so I decided to give it a try. With the knowledge and assistance of wonderful trainers, I lost 20 pounds in the month. Right after this, the club started their 90 day spring challenge and I joined that. The real eye-opener came with the nutritional aspects that resonated with me, "80% of it is what you eat" and "you can't out-exercise a bad diet." By the end of the challenge, I would say that I was very successful! I found that even at an older age I actually enjoyed trying new things and pushing myself in weight-lifting, cycle, running and other activities.

I was feeling strong and loving my gym and all of the activities so much that I decided to become certified in my new love, cycling! Soon after that I started teaching cycle classes at IAC, bought a road bike and did long rides, such as the Seagull Century. I was enjoying my new found strength and variety/level of physical activity when an injury occurred. While recovering from this mild running injury, I ended up with total blood obstruction behind my knee in the form of a DVT. With being on blood thinners, I had to modify some of my activities to those with a low risk of falling and be tested for six months until the clot cleared, but I continued teaching my cycle classes and lifting. Fast forward and I've been teaching cycle for a few years now and have earned additional certifications, Personal Fitness Trainer I and II, and Total Body Strength Conditioning.

Around the end of 2015, I felt like I was settling into a routine again and needed to be challenged. I was teaching 4 or 5 classes a week, running on other mornings, and doing my weight lifting sessions, but it didn't feel like I was in it for me anymore. I was building my schedule around when I could teach and encouraging and working with other people while lifting. I needed my "me-time" back to focus in on me again. It was time for a change!

Being in the industry, I had heard of WLG and had checked out their site/FB before. The classes looked challenging and fun. When I saw the announcement of the spring challenge, I knew it was time to give it a try. Kendra was very receptive to me joining (even with teaching at another gym)! Many of you may remember me as the "boot girl", as I broke my foot in class about 3 weeks into the challenge. I didn't let that stop me though and pushed through the challenge and then joined the Straight A's and 100 miles in July challenges as well! WLG allows me to tune in to just me and my work-out, which then allows me to be more focused on my classes and fellow-cyclists while at IAC. The different challenges and classes have also given me additional opportunities to push myself and try new things, such as boxing.

Through my journey, I've learned some pivotal lessons that I'd like to share:
1. My fellow cyclists know when they come to my classes they will get a great work-out. This is the same way I feel when I go into WLG. However, a work-out is only as good as the effort that you put into it. There is a reason why it is called a "work" out! Give each workout, everything you have on that day. While your strength, endurance, and level may be different each day, always work to your fullest potential.
​
2. One of my own personal favorite sayings is "never settle for complacency". Complacency is defined as a feeling of contentment or self-satisfaction. I tell my class participants all of the time to be sure that they are challenging themselves. If you don't do push yourself, you will never know what you are capable of and you won't see change!

3. It constantly amazes me when people say that they just don't have time for exercise. Everyone has the same hours in a day, in a week, in a month and so on. Time is simply about setting your priorities. Make time for you in whatever your schedule may be. The return on exercise/fitness goes beyond the immediate benefit to your body, it impacts how you feel overall, and how you feel about yourself projects in how you interact with others as well. Only you can make the commitment to exercise regularly.

In summary, I am so glad that I made that choice years ago to become healthier. It feels so good to be strong in cardio and strength. I can endure long distance runs and bike rides. My resting heart rate and blood pressure are really low (not that they were ever a problem). I can leg press 330 lbs. bench press 135 lbs. and bicep curl 50 lbs. and so much more. None of this comes without some sacrifices, setbacks/injuries, and other balancing of life tasks to work your way through. Just don't give up and remember every day is a new day. Don't wait for that special occasion or the right day to get started and don't beat yourself up if you slip one day. Most of all, remember to always make yourself a priority!
---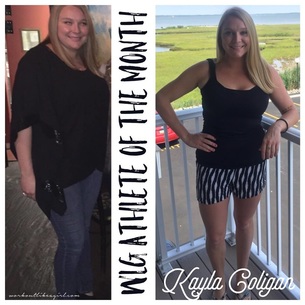 July 2016

Kayla is amazing athlete. Beautiful, strong and hard working. Does it get any better than that? I have known Kayla since she joined WLG a few years ago and when she came back after a brief hiatus I was more than pumped to see that smile again. As she has pushed through workout after workout, I have watched her change literally before my eyes. WOW! Not only mentally but physically she has become a force to be reckoned with in class. Always eager, always ready. I am so proud that she the face of WLG of this month. Congrats Kayla! You deserve it! xoxo K

Here's her story in her own words.....

Where to begin?! I was always active throughout my younger and teenage years. I started swimming competitively at the ripe age of 6 and would continue to do that all year around until I was 18 years old. I was also a field hockey player throughout middle and high school. Playing competitive sports and staying active was a huge part of my life…until college came (dun dun dunnnn). We all know what happens next…drinking, partying, fast food and little to no sleep. Things didn't start to 'catch up' to me until my sophomore/junior year of college (try 'junior 25' instead of 'freshman 15'). I would get on small workout kicks throughout college, swimming laps mixed with going to the gym and taking workout classes, but I never fully committed and therefore didn't see results and became discouraged.

Once I graduated from college in 2013, I moved back home to Kent Island and decided that it was time to make a change. My mom was joining weight watchers and I decided I would do it with her. We coupled this with some P90x workouts for about 2 months, and I did have a lot of success. During this time, a friend told me about this awesome trainer 'Kendra' and her great workout class, so I decided to give it a try. As much as I LOVED the workouts and how diverse they were, I only went for about a month before I landed my first 'big girl' job and all of my progress went out the window. I wasn't used to working full-time and gave myself excuse after excuse.

Fast-forward to 3 years later, February 2016, and I had gained everything I lost back and then some. I felt awful and tired all the time, and hardly wanted to go out and have fun. I knew that diets didn't work for me—I go extremely hard and then get burned out and stop. I knew that I needed to make a 'lifestyle change' rather than trying to do a quick fix, so I started by completely changing my eating habits. Around this time my best friend, Becca, had started at Work Out Like a Girl. She was ranting and raving about how great she felt and how awesome the classes were and eventually I 'gave in' (thank god!!). I was terrified to go back. I remembered how hard Kendra used to push us and how intense the workouts could be and with me getting so out of shape, I was a little embarrassed.

When I went back after a 3 year hiatus, it was just as awesome as I remembered it being. Kendra and the WLG group are extremely welcoming and truly know how to keep me motivated. Each workout is different and 'sucky' in the most wonderful way possible! I go to class about 3-4 times a week and really look forward to what each workout will bring. Kendra urges me to push harder, lift harder and work harder each class. I started seeing results within the first few weeks of attending WLG classes (coupled with much better eating habits) & have lost 39 pounds since starting in February. I feel stronger and better than I have in my entire life, and I can't wait to see what the future holds for me on this fitness journey. THANK YOU Kendra and the rest of the WLG team for always holding me accountable and keeping me motivated!

Kayla Coligan, WLG Athlete
---
June 2016

I will always remember the first time I saw Sam at our local gym. I noticed her right away because she actually looked like she knew what she was doing. Good mover, strong, beautiful and quiet. She didn't waste time in the gym. My kind of girl - a WLG kind of girl. So I went up to her and asked if she ever wanted to work out with me there. She said yes and the rest is history. The athlete of the month is not always a weight loss story but a story of motivation, consistency and above all else finding your "tribe". I am so proud to call Sam my friend and that she calls WLG home. xoxo Sam you deserve it!

Here is Sam's story in her own words.....
So when Kendra called me and asked if I would be Athlete of the Month, I was both surprised and honored. I don't have a fantastic weight loss story to tell or a dramatic transformation to share as many of the other athletes have had. My experience with WLG has had it's rewards in many other ways, some of which I didn't expect.

I spent most of my youth and early twenties not having anything to do with either sports or exercise. I also battled with my weight over the years. I was the furthest thing from an athlete. When I finally got into exercising, I decided to take it to the extreme and I competed in body building. Once bitten by the exercise bug, I decided to become a Personal Trainer and spent over 10 years working in the Fitness Industry. During that time I competed again. About 7.5 years ago I felt it was time to expand upon my fitness career and became a Holistic Health Counselor. Since that time I have gone in and out of phases of either being devoted to my workouts or just being tired of doing the same things in the gym. I knew what I needed to do but what I truly lacked was motivation. Until I met Kendra. We met about 3.5 years ago at the gym and I began to work with her there. For the first time in my life I was being pushed past my limits. I was getting stronger and feeling really fit. Even though I had competed in the past, my training was entirely based around weight lifting. This was a whole new ball game, one which I looked forward to and dreaded at the same time. (I know many of you can relate to that!)

As time went on, Kendra's WLG grew so much that she moved over to the Edge. I have never been a "group" kind of girl. I have always worked out on my own and preferred it that way. I decided not to follow and just went back to my old routines in the gym. Some time passed and I lost so much of the strength and fitness level that I had gained with Kendra. But worst of all, I lost my drive and motivation. That's when I decided to try WLG as a group and I have NEVER looked back. I was so convinced that I would walk into a group of competitive women who all knew each other and would make me feel like an outsider. I could not have been more WRONG!!!! When I walked in I did find some competition, but it was not what I expected. It was awesome healthy competition from women who were busting their butts and having fun at the same time. I found motivation, inspiration, support, camaraderie and best of all, FRIENDSHIP!!!! WLG is like a family to me now. When the usual suspects are not there, I miss them. When someone returns from being out for a while, it's like a homecoming when they walk in. I never thought I would gain so much from working out but clearly, WLG is so much more then exercise.
​
In all the years that I have been in and out of fitness, WLG and the team there are the best that I have ever experienced. I have been pushed beyond my limits so many times that I have new limits now which continue to be pushed. I am stronger, faster and more focused then I have ever been. I will be 45 in two weeks and despite some aches and pains of getting older, I feel GREAT!! For the first time in my life I consider myself an athlete. I owe that all to Kendra, Julie and all the other women who inspire me daily. Your hard work and dedication to all of us is what makes WLG so amazing. I want to especially thank my partner in crime, Heather Doyle, for making me work harder then I want to and making me laugh when I want to cry. I cannot say enough about how empowering it is to look around me and see strong women in every direction. I am so happy that I decided to try the "group thing". It's been incredibly challenging and rewarding. Thank you WLG!!!!!!
---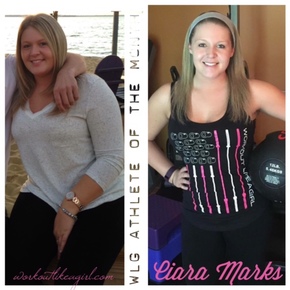 May 2016
I can remember THE NIGHT I first met Ciara. We were doing physical assessment testing (common with our 12 week challenge contestants). It was her first class. I told her just give it her best - and she did! She had a few moments were she struggled that evening - BUT she finished it, even completing an exercise test she skipped due to feeling unwell after the class was over. She was determined to make a change in her life. Well, she hasn't stopped since that day. Always in class with a smile and a positive attitude; she has proven herself to be a fierce competitor. Quiet and determined - she gets it done EVERY. DAMN. DAY. Congrats Ciara on your commitment to your goals and all the achievements you have made along the way of your fitness journey. We are so proud to be a part of it!
xoxoxo K
Here is Ciara's story in her own words....
When Kendra asked if I would be WLG Athlete of the Month, I was so surprised but excited. I've been at Workout Like a Girl since the end of December 2015 and it's changed my life in the best way possible! I was somewhat active when I was younger, dancing when I was little and playing soccer for a few years before high school. But as I got older, I stopped being as active. I've always been pretty self-conscious about how I looked and my weight, but never did anything about it.
My boyfriend and I started dating in 2013 so we started going out to eat a lot, watching movies all the time, and I wasn't getting much exercise. It was then that I started to gain "happy weight," as people call it. In just 2 ½ years, I had gained over 20 pounds. I couldn't believe it when my doctor told me. I mean I knew I had gained weight, but 20 pounds in 2 years? So, of course, I started going to the gym and trying to eat better, but I always got off track a few weeks later and gave up again. This cycle just kept happening, over and over again. I started noticing my weight gain in pictures. I remember looking at the picture above on the left and being mortified. I knew that I needed to make a change.
My cousin,
Nicole Forsman
, had been bugging me for so long… "You have to come to Workout Like a Girl! You'll love it!" I always thought "no, I'll just go to the gym and run on the treadmill," but she wouldn't stop pushing me to come. In December, something just clicked and I finally decided to try a class. I remember walking into the gym and thinking (and saying) this is going to kick my butt. That class ended up being a fitness assessment, which I was actually happy about so that I could see my improvements next time. I could barely even get through that. My first actual WLG class, we had to run to the dumpster and back, and I could barely do that either! I was amazed to see my improvements in the Spring 2016 fitness assessment and now I can run to the dumpster and back with no problem. Now, my days aren't complete without a WLG workout!
Kendra, Evan, Julie and LaneAnn are amazing trainers and they've really kept me motivated. When I get tired and start to slack off a little bit, Kendra's right there to tell me to keep going and that "if it was easy, everyone would do it!" She makes WLG feel like one big family. I remember thanking her for thinking of me in class one day and she said "I always think about you guys, you're family." It really is more than just going to a gym and working out. The other WLG athletes are just as awesome. I never feel judged in class (even when I look like a hot mess after every single class) and everyone is so motivating and wants everyone to do their best. This has been the first thing that I've stuck with, for more than a few weeks, after a few years of trying to stick with exercise and I have no plans of stopping. I don't think that I could quit WLG now, even if I wanted to. I absolutely love it and I can't wait to try more C3 and TRX classes!
I remember the first time I really noticed a difference in the way my clothes fit. There was a pair of jeans that I wanted to wear for Christmas, but they were way too tight. I tried them on about a month ago and they not only fit, but were a little big! It's such an amazing feeling knowing that my hard work is paying off. Not only do I notice changes in the way my clothes are fitting, but I feel so much better. I have a lot more energy, I don't feel like crap all the time, and I just feel happier in general! It's as much an emotional and mental change as it is a physical change.
I think that the most important things I've learned are to be patient and to love yourself. Results don't happen overnight, just know that they will happen if you keep on going. You also need to learn to love yourself and your body at every stage in your journey, even when you're not where you want to be. I'm not where I want to be yet, but I know that I'll get there with the help of Kendra and the rest of the WLG team. It's now 5 months after joining WLG and I've lost over 20 pounds, ran my first 5k with more planned for the future, and gained a new love for being healthy! I can't thank Kendra and the whole WLG team enough for helping me get healthy and learning to love and enjoy the process!
---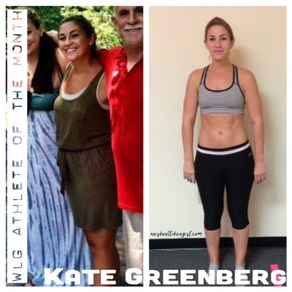 April 2016

Kate came to the Fit Camp several years ago. From the moment I met her, I knew she was not to be messed with. Strong, determined, fiery, and ATHLETIC! When I would send them out for a sprint - no doubt Kate would roll back in first! I love that kind of passion for giving your best effort. She works hard and it shows. Mentally and physically. She is an asset to the WLG Team and we are so happy she finds time to make that LOOOOONG (lol) trip over the bridge to come and sweat with us week after week. Congrats Kate! You earned it.

Here's Kate's story in her own words.....

Growing up I was very active. I always played sports and enjoyed them. Through high school I ran track and played lacrosse. I also played club lacrosse all year long. My senior year of high school I sustained an injury which left me on crutches. It turned out to be stress fractures in my femur.

The next fall I was heading to the University of Maryland to play lacrosse. I was not able to run, lift or play at all. Being unable to train I began gaining weight and losing muscle. My sophomore year I was again not cleared to play and eventually my lacrosse career ended. Even though I was injured I did try and remain active by going to the gym and running. With a poor diet, too much partying and a lack of motivation, I was not at my best. Finally realizing that I was not happy with my appearance, or how I felt, I tried numerous diets and workout plans that only helped me feel a little better about myself.

After college I was able to lose some of my weight and get into better shape. I was constantly dieting and then not dieting and my weight would fluctuate. In 2013, my now fiancé, Aaron, introduced me to WLG. I was nervous to attend the first time when he explained what a workout was like. I was not sure I could keep up. After my first workout I was completely hooked. Working out on my own would never be as productive or as motivating as attending a WLG class. Between coaches and other athletes, there is always someone pushing you to do better and try harder. Since working out there I was in such good shape and definitely saw some changes to my body. I knew that WLG was going to stay a constant in my exercise routine.

In June of 2015 I got engaged and began planning a wedding for July of 2016. I decided that to get ready for my wedding, I wanted to look and feel my best. I had been going to WLG for two years already and was in the best shape I had been in for a while, but I still did not look or feel my best. When I saw that a challenge would be beginning in September I reluctantly signed up. I did not think that doing the challenge would help me see any different results. I have always been an active person and have always been a healthy eater, so what would change? After the first weigh in of the challenge, I was really shocked to see my measurements and body fat. Seeing those results gave me the push I needed, and the accountability to change. Now, not only did I want to look good on my wedding day, I wanted to be healthy. By doing the challenge, I learned so many things I had been eating were not as healthy as I thought. I became more conscious of what I was putting in my body, and what I needed to do to work it off.

The challenge was definitely a challenge, but it was also fun and motivating and just the push I needed! The biggest change I noticed was in my muscle tone and measurements. I lost 11lbs, 10 inches, and lowered my body fat by 5%. I am now in the best shape of my life and have learned how to exercise and eat to stay in shape. Thank you Kendra and the WLG Team for keeping me motivated week after week!
---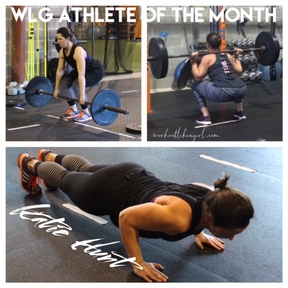 March 2016

All I can say is WOW! That's what I thought the first time I saw Katie train during Saturday classes last year. Intense. Focused. No BS. Just 100% DRIVEN. I liked it, I loved it and I was so pumped that we got MORE of it! She's amazing! She is quiet and exceedingly humble. She listens to the guidance given and in turn utilizes it to become a better athlete. Every. Damn. Day. She has grown by leaps and bounds in the last 12 months. We are so proud of you Katie! You so deserve everything you are training for! - K & E

Here's Katie's story in her own words....

I have been provided a number of opportunities to pursue excellence in fitness. I learned to row at age 10 and never wanted to leave the water. I earned a spot on the Jr. National Team, received a scholarship to row at the University of Miami, and a graduate assistant position to follow as a coach at West Virginia University. I worked with strength coaches at the University of Kentucky and the University of North Carolina. I loved my experiences but I never stacked up; I missed Worlds, sat in the JV boat most of my collegiate career, was the slowest runner on the team, and did not pass the CSCS (strength and conditioning exam). I put in extra hours studying and working out every week but I can't say I ever saw that time or dedication result in excellence, I merely kept my head above water. I had the heart for rowing though and that fortunately was enough.

Reach is paramount in crew and at 5'6'' among team of 6' plus women I was considered short. I learned to dislocate my shoulder to get more length and I also learned that being an idiot will get you a multitude of shoulder surgeries. After surgeries and academia real life took hold and my passion for a sport that had given me so much waned. Life continued and I gained two amazing children. Though never lean I gained additional weight and lost sight of goals. I thought I was ready for a change when my friend, Suzanne Crawford, suggested we try Kendra's challenge in the summer of 15. I was really happy to have my friend with me at WLG but candidly I just wasn't focused and had excuses. Another challenge came and on that day I decided it was time to end the disappointments and forgive the past. I lost weight and started to set goals again.

Meeting Kendra and Evan was everything. I am starting to learn my potential because of their commitment. If I went back to college I would crush my former self and I am beginning to now understand the lifts I studied and their intricacies. Kendra conditions me and rallies me one to two times a week at WLG. I watch her kill it when she has the time to take C3 and her beast mode is incredibly inspiring. Evan coaches me patiently through once a week personal training sessions and multiple C3 classes on proper positioning. He has developed a program for me that has challenged me and progressed me in such a rapid pace that I literally question if my running app is even right. Not only can I now hang a shower curtain without pain but I can do 200 push-ups and am gunning for a pull up. I don't regret the training programs I had before but it is amazing what I can achieve when surrounded by excellence.

I commend and curse the Eichlers each workout. I love the gains and despise the pain but the deeper I dig and the more they break me down the Eichlers are right there to build me back up stronger emotionally, physically and mentally. I was grateful to be chosen for Athlete of the Month but at the end of the day it comes down to the fact that The Edge is more of a home then a gym and Kendra and Evan are bar none the best trainers I could ever ask for so thank you Eichlers for being the catalyst to a better life.

---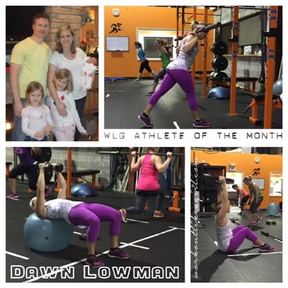 February 2016

2 years ago Dawn came to WLG and boy are we glad she did! She makes up the "die hard" crew at 6am that don't chatter, don't sit around, pay attention and GET 'ER DONE! Her and her training crew are always the group that finishes the nail biter training sessions even if they come in hot on "two wheels" at the end! It's awesome to coach and exactly the type of athlete that thrives in the WLG environment. She comes in with a smile and a PMA (Positive Mental Attitude) on the daily and we LOVE her for that. She is a standout and we are thankful that she makes that looooooong drive (jk) "over the bridge" to keep sweating with us!! Congrats Dawn - you definitely earned it! K xoxo

Here's her story in her own words......

I can remember since 4th grade and being a competitive gymnast that being strong was a thing of mine. I was a level 9 gymnast when I graduated high school. Gymnastics is intense and quite grueling. I was at the gym 5 days a week, strength training constantly and perfecting routine after routine. It definitely molded who I am. I was always the girl at school who could do more chin-ups than the boys and was pretty quick on my feet too. After several injuries I decided that my body was done with gymnastics and so was I. So I went to UMCP and entered into the beer drinking world of sorority life. Exercise was still important to me but I truly believe because I had/have so much muscle mass my metabolism was high and I seemed to be able to eat and drink what I wanted. I did my occasional visits to the gym but nothing consistent.

I became a mom the first time when I was 29. At this point in my life I was at a standard gym doing my step class twice a week. I was fit and recovered quickly after having my first daughter. I had two more daughters over the course of the next few years. I realized after my third that losing the weight was becoming really tough.

We all know how small town KI is… and after my third daughter was born I remember being at the gym and hearing everyone talking about this great lady Kendra and Workout Like a Girl. After looking into her and WLG I knew I had to check it out. It hit me that I was missing my strength training portion of my workout. I was missing some of my muscles J. I remember dropping in on a 9:30am class, talking to Kendra, watching the other strong ladies do the workout and being super excited to get to the very next class. I started doing the 6am WLG class close to 2 years ago. That first workout was KILLER. I couldn't physically hold the hair dryer that morning, my arms were just like jello. The 6am class is unique… the group of women are amazing. All walks of life exercising at their levels and always supporting the woman next to you. Over the course of the year my body has changed, my muscles are back and I am comfortable in my skin (turning 40 also has to do with that!). I am strong and I am healthy.
Despite being a busy mom of 3 young ladies, recently moving back to the Western Shore, and running my acupuncture practice I make sure that I am at the 6am class. It starts my days off on the right foot. Every exercise class with Kendra and Julie are different and challenging.

As I said my family just moved to Severna Park and my friends keep saying to me "why are you still going OVER THE
BRIDGE to exercise?" I know why… and so does every other woman/man that comes to WLG… the support of all the other athletes you are working alongside, the coaches who are so motivating and because I love my 6am ladies! Thank you so much Kendra for giving me this honor of being athlete of the month. Thanks lady!
---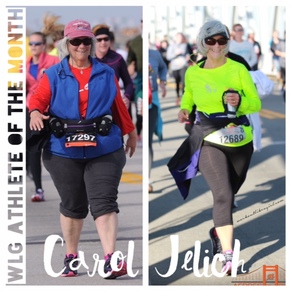 January 2016
I will never forget meeting Carol that first day. She was quiet. She was nervous. BUT she was a fighter. She finds her rhythm and doesn't stop moving. She placed in the top 10 of 170 athletes in the Fall 2015 Challenge. Her transformation has been quite impressive!!! I was beaming just this past week when I saw her in class doing burpees with no modifications and sprinting with the rest of the class. I cannot and will not take credit for it. THAT is what is called pure heart. Carol was determined to make a change... for her. She wanted to get better... for her. She did those burpees... for her. I love that beautiful face of hers and am so honored she will represent WLG for this start of 2016. Thank you Carol you deserve every bit of this.. xoxox K

Here is her story in her own words...

NO. WAY.… was what I thought when Kendra suggested I be Athlete of the Month. After practicing positive thinking during the 12 week fall challenge, I slipped right back to negativity, thinking of all the reasons why it was not a good idea.

Kendra said my story would be an inspiration to folks at home wondering if they should give WLG a try. Well, that sounded like a good reason, so I started thinking about what I would say. But all I could think of was how far I have to go. I am still very "fluffy" below the waist. I am always last on sprints. I still do push-ups and planks mostly on my knees. Box jumps? Pull-ups? Um, no. So I started writing an email to Kendra explaining that I wasn't ready for this, I still had too far to go. But as I wrote, I started thinking about how far I had come. And actually, it is pretty darn far.

I was always round. In 5th grade my nickname was Carol Barrel. I was the kid picked last on teams. When other kids were out running around in the summer, I was curled up with a snack and a book. One summer I was on a swim team, but I couldn't keep it going as I got older.

This changed some after college. My first job was in a building that had a gym downstairs. I joined, and got in great shape. That's when I met my future husband. I was 29 and weighed 107 on the day we got married. Fast forward to age 39, and I was sedentary and overweight. As I approached my 40th birthday, I joined Weight Watchers and took off a lot of weight. I felt good and looked good, but it didn't last. By the time I was 49, I was heavy again.

To celebrate our 50th birthdays, a neighbor and I signed up for a 3-day walk raising funds for breast cancer patients. We trained for months. My weight dropped some and I felt pretty good. It was hot for May, in the upper 80s. As I reached the last rest stop on Day 2, they were shutting the event down for the day and putting people on buses, as a number of people had been taken to the hospital for overheating. I didn't want to stop! I actually escaped the rest stop by running up a berm on the side and back to the road. I kept going. The next day the pain in my feet was intense, blisters the size of silver dollars, but I kept walking through the pain. For the first time in my adult life, I was an athlete! I finished that walk, an incredible feeling.

But alas, by age 60, I was heavier than ever, well over 200 pounds. I joined another gym, took off some weight, gained most of it back. Then my friends Michelle L and Linda B did the 2014 WLG fall challenge. They look great, so strong and healthy and trim!

So now it's 2015, the year I turn 65. I am desperate. Michelle and Linda had been so successful, I wondered if WLG would work for me. But I was scared by the intensity of the workouts they described. I sent Kendra a message, explaining that I was old, obese, with bad knees and a bad back. I was wondering if it was even possible for me to do the WLG summer challenge, or maybe I should just join the senior center and do Sitercise. She had a simple answer – "Yes, come." So I did, and the combination of diverse workouts and clean eating plans in the challenge, changed my life. I did the Summer Challenge, the 100 miles in July Challenge (mostly walking, but I did it!), and the Fall Challenge this year. I have lost weight and inches and body fat, strengthened my back and knees, and gained confidence in my athletic ability.
Yes, WLG workouts are intense, even with modifications. But the team spirit is electrifying! People help each other get through it. (Here I give special thanks and recognition to Kendra, trainer Julie, and Michelle L who encouraged me to keep going when I thought I had hit the wall. Not to mention the speedy girls who have come back to run with me, helping me finish my sprints, and all the training partners who are always patient with my modifications). When the workout is done, I am tired, but it is the best kind of tired. When I leave the building, sweaty and exhausted, it is a great feeling – I am an athlete!

So looking back, I have come a long way. I couldn't do a single full sit-up when I started; now I can do reps and sets. At first I had to walk the whole way on the warm-ups around the parking lot; now I can jog most of it. I have knocked my 5K pace down from 19 minutes to 14 minutes per mile. I have gone from a BMI of over 40, morbidly obese, to 28, approaching the normal weight category. And from here, I can set some goals that seem doable in 2016: I will do push-ups and planks on my toes. Pull-up? Box jump? It could happen. My sprints will get sprintier. I will master the Bosu squat. I will lose the rest of my excess weight, and shrink my pot belly. I will work out like a girl in 2016. And If you are reading this and wondering if you should do it, too… Yes, come!

---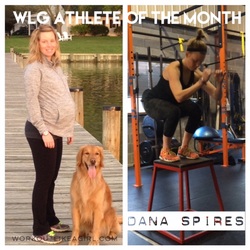 December 2015

Dana has been with WLG since the "garage days". She is an amazing athlete and I just knew she just had to join the group! So I asked. And asked. And asked. And one morning - she said YES!! And the rest is history - 2 1/2 years later - she is still killing it! She is fast, strong, committed and a leader in all things awesome! We are happy she calls WLG home and still has found time to make class even with having her little one at home! Congrats Dana - you deserve it! xoxox K

Here is her story in her own words....

To say that I am a WLG addict would be understatement, I am absolutely obsessed. I have been coming to Kendra for over 2 ½ years now and she has completely changed my life. Kendra asked me a few times to come to her class, and finally I tried it. I was a big runner when she found me, sometimes running 50 to 60 miles a week with really no strength or interval training. I started with one class a week, and then I became engaged. With the wedding on my mind I was coming 3 to 4 times a week and training for a 16 mile metric marathon to boot. By the time I was walking down the aisle I was so shocked at what my body had been transformed into. I have always been an athletic person, but when I went to college I gained about 35 lbs. throughout my four years. To see how WLG and Kendra had transformed my body in a few short months brought me to tears.

A month and a half after getting married I became pregnant with my son Reed. So I went into this pregnancy in the best shape of my life and I was determined to be active throughout the entire time. I was "waddling" around WLG classes till about 6 weeks before giving birth. Kendra made it so that I could still come so late into my pregnancy by modifying exercises to what I could do. Classes were more than just being fit during pregnancy to me, WLG is really a family and I needed those classes mentally. I get so excited to come to EVERY class. I never dread a workout with Kendra. WLG is really a family and I love seeing everyone at class. Along with WLG classes, I ran till about 7 months and walked a few miles a day till the day I gave birth (even with sausage feet haha)! Once my little man came, I was anxiously awaiting my 6 week check-up to get the clearance to return to activity. I finally was cleared by my doctor and I returned not even a week later with about 35lbs of baby weight to lose.

My biggest challenge of my life has been getting back into shape after pregnancy. In order to make it to classes as much as possible I will ask family to watch my son, so that I can get my Kendra fix still a few days a week. I do not get as much time anymore to work out, but I have stayed determined to get back into shape. It is a struggle I am sure so many people in the WLG family face of finding the time to get to class or a workout in for the day. I make it my mission to always make 1 to 2 classes a week because I really just enjoy going. WLG has become my hobby because I don't have time for an actual one just yet. WLG has allowed me to lose my baby weight and not dread my work outs in order to get there.
​
Thank you Kendra for changing my life. I went from a self-conscious girl to a confident athlete because of you. You are never allowed to move away because I will follow you in order to keep taking classes. Also, thank you to all the athletes who come to class week after week because you motivate me every day. Without the support and motivation of my husband and family, I would not be able to continue to attend classes each week.
---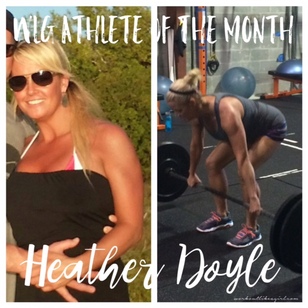 November 2015

Heather came to WLG last Spring. I quickly took notice of her in class. She. Was. Determined. No messing around. All business. Very focused. And she could deliver. Each class she got stronger. Each class she got faster. Just the kind of athlete WLG was built upon. She has grown so much in the past 8 months. We are so happy that Heather calls WLG home. Congrats Heather! You deserve all the successes you have and are an amazing ATHLETE! xoxo

Here is Heather's story in her own words....

When Kendra asked me to be Athlete of the Month I was incredibly honored and honestly very surprised. I knew I would have to tell my story so I looked back at some of the past "Athlete of the Month" stories and realized that I can relate to all of them in so many ways. Like the fact that most of them never really considered themselves an athlete. I haven't really viewed myself as an "athlete" since high school even though I've spent most of my adult life working out or doing some form of exercise. And like so many of the other stories I read, there have been times in my life that I haven't been happy with the way I looked, the way my clothes fit or even the way I felt in my own skin. At the beginning of the year that's exactly how I felt. Despite working out on a regular basis I just wasn't getting the results I wanted. I was eating pretty healthy (minus the wine…but we all need a little wine in our lives, right ? )

I had been in worse shape but I had also been in better shape and sometimes knowing what you're capable of is your best motivation. I had been through a lot in the past 4 years and I was finally in a really incredible place in my life personally and I wanted my outside to match how incredible I was feeling on the inside. I had heard about WLG from a lot of friends and I must admit I stalked Kendra's Facebook page reading the posts, the stories of all of these incredible women, these incredible athletes. I was jealous… I wanted to be that excited about my workout, I wanted those results. For some reason though I was a little intimidated, I had heard what a hard workout it was and even though I was already working out a few times a week I was still nervous that I wouldn't be able to do THIS workout. I was also nervous about being the "new kid" to this group that seemed like a family.

It took me a few months to actually attend my first WLG class. I remember that day like it was yesterday. It was March and it was cold and sleeting outside. I had just dropped my kids off to school and was heading to the gym to do my normal Friday workout. Something made me message Kendra on Facebook and ask if there was class that day. She immediately messaged me back " Yes, come on by". I thought to myself.... "Oh sh*t, there's no backing out now, what have I gotten myself into?". So I turned my car around and headed to my first WLG class. It was hard, REALLY hard. But I'm pretty competitive so I tried my best to keep up with everyone in class even though there were a few times I actually thought I might throw up. I left that first class feeling like a new person. I remember telling my boyfriend that it was the BEST workout I had ever done, and I've pretty much done every kind of workout there is. I swear I felt this euphoric high all day after that workout.

Of course the next day I couldn't walk or sit or lift my arms but I still felt great! It was like all of a sudden a switch went off in my head and I said to myself "this is the workout for me, this is what I've been missing". When Kendra messaged me the next day to see how I was feeling, I told her I was hooked and that I'd see her Monday. I was hooked. I was addicted and couldn't wait to feel that euphoric high again. I've been going to WLG 3 times a week since that first class and I recently added TRX and C3 to my workout schedule. I can notice the changes in my body, and it feels good that other people are starting to notice too. Since March I've lost 15 pounds. I've also lost inches and gained muscle. I try not to get too caught up on the scale though. I actually don't even own one. What I try to concentrate on is how I feel in my clothes, how I feel when I look in the mirror, and most importantly how I feel in my own skin. I no longer measure my success by the pounds or inches I've lost. I measure my own success by how I feel about myself and the fact that I no longer compare myself to others. I know with each new day and every workout, I'm becoming a stronger and better "me". I just turned 44, and I've never felt this strong, both mentally and physically.

The classes are still hard and there are still times I feel like I might throw up but I love how Kendra and Julie make me want to challenge myself. I find myself reaching for the heavier dumbbells and kettle ball, I find myself getting faster with each run to the stop sign or dumpster, and I LOVE how excited I am about my workouts now. I love how each class is different, from flipping tires to Indian Runs to No Suck Mondays. Kendra and the WLG team have given me a place to go where from day one I felt welcome. And on the days when I'm just not feeling it, Kendra or Julie are always there to push me to give a little more, they push me to be the best ME!. There are a lot of definitions of "athlete" out there but the one I like best is this..... "A person who is proficient in sports or other forms of exercise". Thanks Kendra for this amazing honor and for helping ALL of us at WLG find our inner athlete!

---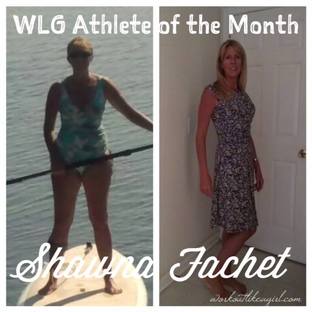 October 2015

I will never forget that first day Shawna showed up. She seemed so nervous. I heard a few "I can't"s from her BUT.... she did. She kept coming. Always wide eyed and in awe of how hard it was but proud of herself. She is strong, beautiful and determined to keep pushing. From "I can't run".... to running her first half marathon this summer, she is the essence of WLG. She found the athlete inside herself and hasn't looked back! Congrats Shawna, you are an inspiration to so many! xoxoxo K

Here's her story in her own words.....

Athlete of the Month...well my first words to Kendra were "but I'm not at athlete." As I look around the gym, I see real athletes who have inspired and encouraged me since my first day. Like many of us who have started on this Workout Like a Girl journey, I was never an athlete. I never ran; never went to a workout class and never really dieted.

Like most women, I found time to take care of everyone else in my life, but never had time for me. Eventually, I started gaining weight and it came to a point where I didn't really recognize my body in pictures. Could I really be that heavy? I hated to shop because the sizes of clothes that would fit me kept going up each year. AND, wearing spanks all day is AWFUL!!! But, I was embarrassed of my tummy bulge and huge hips...so spanks it was. To be honest, it's a little depressing when you don't feel that good about yourself.

Even if I had time to workout, I certainly didn't know where to begin working out. Anything I tried, I didn't stick to. I joined a gym a few years ago and paid a membership fee to a place I hardly ever saw. I bought some video tapes and used them about a dozen times. I even tried running but I felt physically sick after a run, so it didn't last long. I seemed destined to be a middle-aged, unfit soccer mom who bought clothes to cover up all her imperfections. I spent my free time time making homemade bread, cinnamon rolls, cakes and cookies for my family. Do you know how hard it is not to eat entire loaf of homemade bread when it is warm from the oven???

By November of last year I was the heaviest I had ever been. You know it's bad when your friends tell you that you're "getting a little thick!" I knew I had to do something, but I also knew that going to the gym was not for me. A few years ago, I tried a "fit boot camp" type class and enjoyed it. It was one of the few exercise programs that I stuck with but they stopped the class. I came close to trying CrossFit but never did.

Then, over the holidays I saw someone from my old fit class, Monika Armbruster in the grocery store. She told me about Kendra's class. She also told me how tough it was! In fact, I think she said that the easiest WLG class was harder than anything we had done in our old class. Of course, that really wasn't the best marketing pitch. But, Monika agreed to go with me after the holidays. When I got home, I looked up the information about the class and saw Kendra's picture on the website. I remember thinking "there's no way in hell that I can take a class from her." She looked like a fitness model which was truly intimidating. I was looking more for the Richard Simmons type. But, I felt like I committed to going with Monika, so I was trapped. I could go to one class, right?

I will never forget that VERY COLD, January day. I was the cliche of New Years resolutions at class the Monday after the 1st. Getting out of bed SUCKED. I normally got up at 6:45 AM. This was EARLY. When I arrived, it was still pitch black out and no one went inside. These crazies got out of their cars and started running in the blistering cold, black morning. I thought they were nuts!!! Really, did we need to be outside? I barely made it around one full loop. One loop was a workout for me, not a warmup. Inside wasn't much better. I remember trying to a v-up on my first day and just laughing thinking who are these women that can do these. I couldn't EVEN do ONE.

I remember telling my husband the WLG women were nuts. I remember my muscles killed. I remember being exhausted by 8:30 PM each night. But, for some reason, I kept going back to that madness. For the first time in my life, I was inspired by going. Although I judged myself every day, no one there was judging me. My goal was just to finish an entire class, doing the entire workout. It would be over a month before I achieved that goal.

Finally, in March, I was feeling good about class. I finally was used to my new schedule and waking up. I could do a workout most of the time. YEAH...I could do my two laps and even do a v-up! A lot of times I could even walk without being in a perpetual state of muscle ache. This was good. But, I hadn't lost a pound (and summer was approaching). I talked to Kendra one day and as usual, she gives it to you straight. It's your diet and you need cardio. You need to run. Of course, this was the last thing I wanted hear. I couldn't run...never was, and never will be a runner. "Yes you can!" she said. I tried to tell her my issues, but she kept telling me that I could. Clearly this woman didn't now the really terrible body I was living in. I decided to give running a try just to prove her wrong. At the same time, my kids had been running a bit in school and happened to want to register for a 5K. It was a disaster for me. I had to stop 4 times in 3 miles! I felt hopeless.

When I told Kendra, I was hoping for some empathy and babying. I didn't get any! I got it straight again. "You have to run for at least 20 minutes before you start burning the fat." She didn't get it! "I'm not a runner!"
"Yes...you can be ", she would say.

Julie would give me tips on muscles, eating, stretching and even underwear!!! I found myself out there trying my hardest to get to that 20 minutes mark. It was painful. But over the course of a month, I was running 2 miles without stopping. Kendra was right....my weight started to drop. That small weight loss motivated me to try harder. I would hear Kendra after most classes saying "now DON'T screw it up!!!" I started to think about how I had been busting my butt each morning and then I would ruin it with my diet. So, I made small changes to that too. It turned out that changes in eating weren't as hard as I thought. I was always good at preparing things ahead of time. I was good at cooking. I just needed a little work on portion size and determining how many calories I needed to live, work out AND lose weight. When I coupled working out with my diet changes, the weight started falling off!

Then something incredible happened. My family jumped on the band wagon. Everyone seemed to want to run and they even were on board to eat better. July's 100 mile challenge came and I registered just hoping to complete 50 miles. But, something clicked and I seemed to build endurance. I was running 8, 9 and even 10 miles without stopping! I actually couldn't really believe it! I finished 100 miles! I can't tell you how that feels for someone whose longest run was 1/2 mile. Before I knew it, I had lost 20 pounds (in three months) and my husband lost 40.

I stared making sure I was doing something (either WLG or running) every day. I was eating great. I felt great, not just physically but even mentally. Class was hard but it motivated me! I loved starting my day with Kendra or Julie and the women in class.

Working out became a habit like brushing my teeth. It feels wrong now if a day goes by and I don't get in a WLG class or a run. I really don't miss a day. I find myself waking up at 5:00 am even on vacation and getting in my run or workout. I try to make good choices on what to eat. Don't get me wrong...I still eat fun stuff. I can still have a cookie every once in a while, but because I make great choices all week and bust my butt in class.

Honestly, I can't believe I'm at this place. I'm now 47 and have never been at a place where I felt this strong, fit and at a healthy weight. I enjoy putting on my clothes in the morning and haven't seen my spanks in months. I love that I get to do something for me every day. I've learned not to feel guilty about that. I've learned when class get hard or I'm having a rough day or I'm in a little pain, to embrace that. I guess I've learned to start to believe that even at 47 I can achieve things that seem far out of my reach.

So, I will say that Kendra and Julie ended up having more faith in me than I did for the past 9 months that they put up with me. In today's class, I did 30 v-ups without blinking an eye. Last weekend, I completed my first half marathon in 2 hours and 3 minutes. Not bad for a beginner (although it still seems unreal to me because I'm SURE I can't run 13 miles).

Sometimes it is so hard to believe that you can overcome things that seem so out of reach. Maybe for tonight I will tell myself I AM and athlete and I AM a runner. It's not possible to express to everyone at WLG (trainers and athletes) the gratitude and love I have for you...for always pushing me to succeed and supporting me when I can't do things (YET). Little did I know the impact that WLG would end up having on me and my family that one cold, dark January morning that I got up the courage to walk into class. I can't tell you how happy I am that I began this journey with all of you!
---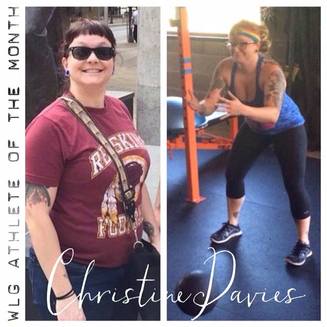 September 2015

Talk about a ball of FUN!! This girl walked into the Fit Camp and I was like "Whoa! She is too cute! I want to put her in my pocket!" Just always giggling. Always smiling. Always positive! Well sometimes she gives me the stink-eye when I ask her to do more burpees but mostly smiles LOL! She has been coming religiously and it shows. Work hard, play hard. Each week she amazes me! Love her face and am so proud she said YES to being WLG Athlete of the Month! Congrats Davies!!

Here's Christine's story in her own words......

WLG life changer!! I was an active kid played soccer and I danced. As I got older I became less active I gained weight then lost some then gained more etc. I would join gyms and "workout" for a few months but never really was saw or felt results and just got bored being there.

About a year ago I saw an ad in What's Up Eastern Shore for the WLG Fall Challenge. It was the first time where I checked out pictures in the ad and the website and thought this is what I need a group class setting that isn't at a gym. So I signed up and took the TRX and a few WLG classes. I have never sweated so much in my life. I now understood why it said on the website bring a towel. I had a weird work schedule so I really couldn't commit and had to take a hiatus from everything during the holiday season. During that time I indulged so of course I went backwards and gained the weight back I had lost. however the main thing I noticed during that time was how tired I was and weak I felt.

Seeing Kendra and other athletes on Facebook made me feel like I was missing out or guilty for sitting on my rump. So that was it no more b.s. I changed my entire work schedule so I had no excuses and signed up for the monthly plan. I have been coming 4 days almost every week since February. The people that I have met help motivate you to stay active and push through those dreaded burpees. WLG has changed the way I live my life. It's the first time in 3 years that I have felt comfortable with myself to wear shorts in the summer, go hiking without quitting half way, and even signing up for 5ks. ❤ WLG it's a great addiction!
---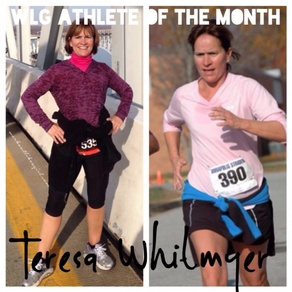 August 2015

You want to talk about a positive attitude! This beautiful woman has it! And heart! And drive! And an amazing smile that draws you in. The WLG Team is so lucky to have this gem in our midst. She keeps her training on point by utilizing all of the classes we offer from TRX, WLG to C3. She does it all! Congrats Teresa! You deserve it! Now finishing enjoying your summer and come back to class!

Here is Teresa's story in her own words....

From a young age, exercise has always been a big part of my life. I have tried almost every form of exercise out there, from yoga to Pilates to step aerobics to spinning. For 10 years I was even a dance aerobics instructor. Running holds a key place in my life as well. At 19, I started running on my own and have not stopped. All that's required is a pair of shoes and an open road or trail, and I am always looking for new places to run. Training for marathons and triathlons has given me both a lot of pleasure and alot of pain over the years. Seven marathons, including Boston, have taken their toll on my body, and like most long-distance runners, I have sustained a number of injuries.

Three years ago, my friend Debbie O'Malley asked me to go to a boot camp with her. Always one to try a new workout, I went. As the saying goes, the rest is history. Kendra's Workout Like a Girl hooked me on that first day and I've been going ever since. Who would have thought that in my 50's I'd feel the strongest I have ever felt in my life? I now regularly reach for the 30-lb. kettle bell and the 15- or 20-lb. dumbells without thinking twice. WLG has proven to be the key to my improved fitness and endurance. Since starting WLG, I have not sustained any major injuries while running. Training for long-distance runs has become easier thanks to the strength and endurance I have gained from WLG.

Despite being a busy mom of two teenagers and working a full-time teaching job, I always find time to go to WLG. Kendra helps all of us reach our fitness goals and treats everyone equally, whether we are lifelong athletes, just getting started on a workout routine, or coming off of a sustained period of injury. She's the motivator that keeps us all going. Running, lifting weights, doing burpees and squats, or using a deck of cards to see how many reps we do, Kendra is there with us through it all. Kendra and her husband Evan also take us on trail 5K's at night with headlights. C3 classes (condition, challenge, compete) have also kept me coming back day after day. There is never a dull moment at WLG!

WLG has brought my workouts to a whole new level and I think Kendra and the crew will keep me running for another 50 years!
---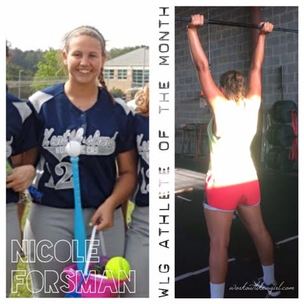 July 2015

I will never forget this amazing athlete's first night. She was front row and center.... and smiling the whole time. Strange right? No, it amazed me! She was eager, ready and motivated. Since that dark wintery night Nicole has been a staple at all the class times. And when I say all....I MEAN ALL! From 6am to 6:30pm she is there. She is positive to be around and is always ready to express her undying LOVE for burpees! She is a hard worker and so readily deserves the honor of Athlete of the Month. She is leaving us in August for school and we will miss her dearly but until then, we are gonna keep on sweating!! xoxox Congrats Nicole!

Here is Nicole's fitness journey in her own words......

My journey since joining WLG has been completely amazing and I was completely shocked when Kendra asked me to be athlete of the month. It's always great to read everyone's journey of how they have adapted and grown through this program!

Growing up I was never one of the fastest. I have always played sports, and though I stayed active, I always felt a struggle with my weight. I remember one day in high school, when I looked at myself and said, "It's time for a change." At that point, I did what most people do when they say that, hit the gym and started eating healthier. However, I truly never found the right gym for me. Being a college student, I wasn't trying to spend a lot to attend a gym, and after awhile I would get tired of doing the same routine over and over again. I attended a fit camp similar to WLG but when that ended, I went back to the gym. Though I did lose weight, I realized that I was plateauing. I got tired of feeling as though I was wasting my time at the gym and creating a work out for the day. That is when I knew I needed to find a place that will push me to run faster, lose more weight, and motivate me.

I started attending classes mid-January, 2015. I found WLG through the free WLG 101 ad that was posted. I asked a friend, who previously attended WLG, what the workouts were like and he told me he puked. That left me a little nervous, well very nervous, but there was something deep inside that told me I would be completely fine. Therefore, I put on my running shoes and headed to WLG 101 class. I truly don't think that I will forget my first class. I was introduced to Kendra, and for that workout we used the deck of cards. When the workout was done, I knew that I would be feeling it the next time, well the next four days due to all the squats. However, I feel like that was what kept bringing me back. I knew it would be a good fit for me from the very first day!

At first, I attended a few WLG 101 classes, but after about three classes, I finally had the courage to attend the WLG class. Due to college classes, I usually joined the morning classes on Monday, Wednesday, and Friday. However, that eventually evolved into Thursday and Saturday classes as well. Today, I usually come twice on Mondays, then Wednesday, Thursday, Friday, and occasional Saturdays. Some have asked me how I do it, and all I can say is that if my feet are still moving, I'll keep moving. I now schedule my time around the classes. It feels like something is missing if I can't make a particular day. I truly enjoy coming to every class and always feeling the burn. I am in better shape now than I was in high school and have improved my speed. I never would have thought that I would enjoy running, nor do 100 burpees for time, but I have grown to like them. When I first started, the 35 lb. bar was my go to, but now the 45 lb. bar is what I like to use. I now try to challenge myself with weights that allow me to complete the workout but add a little extra challenge. Whether it's running with equipment to the dumpster, jumping up ramps, doing bear crawls, or hanging on the bars, it all helps me become stronger! I have also learned better eating habits. Kendra always says, "Now don't screw it up!" I have changed what I eat which makes me overall feel more energized and ready for whatever is next. I noticed the last few months my clothes have fit different but it wasn't until the last few weeks when the scale showed my progress. I had the biggest smile on my face but I know there is still work to be done!

Though ever class isn't always the easiest and requires pushing through the pain, I would have never of been able to progress and grow through exercising without Kendra and the WLG group! Kendra encourages me and challenges every person that steps foot into that place. She makes you realize that pushing through the pain is worth it and that, "if it was easy, than everyone would be doing it." The other athletes also encourage every single person. From the 6am class to the night classes, I have met so many great individuals who have inspired me! From Kendra and Julie, to the WLG team, each one of you have helped push me to be the best that I can be, thank you!

---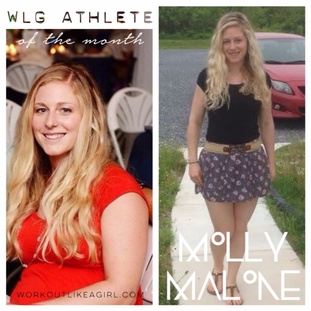 June 2015

Molly came to the Fit Camp last year. In typical fashion, I keep an eye on the new athlete in class in case they need some extra help. Molly was good to go. She got it. She paid attention. She was quiet. She was motivated. She is awesome. She always showed up to the 6am class with a smile on her face and a great attitude - which I have found makes all the difference to an athletes progress in the Fit Camp. She comes ready to work and WORK she does! Charging out the door for 1/4 mile sprints or dropping to the floor for some Surfer Sprints - she does it with all she's got. Recently Molly came on board as an author to the WLG Blog and she is equally as talented with her literary skills. She is an asset to the WLG Team all around and WE are happy to have her!! Congrats Molly you deserve it! -- K xoxox

Here is Molly's story in her own words...

When Kendra asked me to be the Athlete of the Month for June I was beyond flattered and excited. Coming to WLG has been such a positive experience for me that being asked to be the athlete of the month is an amazing bonus.
My journey with health and fitness has been a process of putting all of the right pieces together. Growing up I was always active, played sports and was constantly outside. I was also surrounded by my cousins who were all stick thin...even the boys. I was average size and weight, but by comparison, felt huge. My stomach wasn't flat enough and I thought my legs were too big. I didn't look like girls on TV. I have amazing parents who did everything they could to make me feel good about myself. My mom has always ran and she encouraged me to run and do sports. Still, I was never truly happy with what I saw in the mirror.

In college I wasn't playing sports but I ran and took classes at the gym. A turning point came in 2008 when I returned from studying abroad. While overseas, I ate and drank whatever I wanted but, because I walked everywhere (no car) in addition to running, I stayed about the same. The problem came when I returned home. I had my car back but was still eating the way I had abroad. I was soon the I was the heaviest I'd ever been and very unhappy.

I realized just running wasn't going to fix this. My eating habits had to change. I researched how many calories I should be eating in a day, set up a spreadsheet, and started counting. I counted everything. One teaspoon of olive oil, an apple, ½ cup of yogurt, three slices of bell pepper. Does a garlic clove have calories? If it passed my lips it went on the spreadsheet. There were some pros to this and some major cons. The pros: I lost the weight I needed to. I lost about 30 pounds in 5 months. I learned about portion size, an invaluable lesson. The major con: I. Was. Crazy. I started having anxiety about eating out because no matter what I ordered I thought ridiculous things like, "How will I know how many tablespoons of oil the chef used so I can write it down?" When I went over my goal I felt guilty and upset. While it helped me lose weight, this practice wasn't sustainable or healthy for me. I tried to keep it up but entering my senior year and then grad school I just didn't have the time or energy to spend counting calories.

I held on to what I learned about portion size and continued with my usual running and inconsistent gym visits. I continued to go up and down in my enthusiasm for exercise, up and down 5 or 10 lbs, and up and down in how I felt about my body. In 2011, I found a book by Women's Health called, "The Big Book of Exercises." It was all about weightlifting and had workouts in the back. It looked interesting so I bought it and chose a workout. I carried the book around the gym with me (even though I felt silly) so I could refer to the pictures and instructions. I started seeing results from working out like I never had before. Now I kind of liked what I saw in the mirror. I loved how strong I felt and enjoyed the challenge of adding weight and trying new things. Despite all of the good, my enthusiasm and motivation were still inconsistent which meant my results went up and down.

I was in a rut when I heard about Workout Like a Girl. I had put some weight back on and felt discouraged. I was bored working out by myself and going to the gym felt like a chore. I spoke to someone who had tried a class at WLG so I looked at the website and facebook page. I knew this would be good for me but thought, "This looks really intense. It might be too hard." I'm not a naturally loud or outgoing person either so just trying a whole new program full of people I didn't know felt scary. It took two weeks from hearing about WLG to the time I actually called, talked to Kendra, and told her I'd like to try a class. I knew once I did that I would have to go. I was incredibly anxious that morning. I got there and was greeted warmly not just by Kendra but by everyone. The workout was very hard, just as I expected, but also unbelievably fun and motivating. Here was a whole awesome, friendly, diverse group of women working toward the same goal of getting better and stronger. I remember thinking very clearly, almost like I said it out loud, "Oh...so this is where I'm supposed to be."

After class, Kendra said, "Great job! I didn't really need to help you with much. You seem like you know what you're doing." That small vote of confidence meant so much. I was proud of myself for completing such a challenging workout and even managing to keep up somewhat. Since then, I've felt my confidence grow exponentially with each class. I've made friends with so many amazing women who inspire me to be my best during every workout. When a workout seems crazy hard or I'm trying something new, I trust Kendra. If she thinks I can do it, then I know I can do it. It's that simple. I'm in the best shape of my life and I can't wait to continue learning and growing. I'm starting to feel truly happy with how I look. More importantly, rather than disliking my body for what it's not, I'm appreciating and thanking it for what it can do.

Thank you Kendra! The care and heart you put into our home is what makes WLG a truly special place for myself and so many people. Thank you, also, to all of the WLG team!



---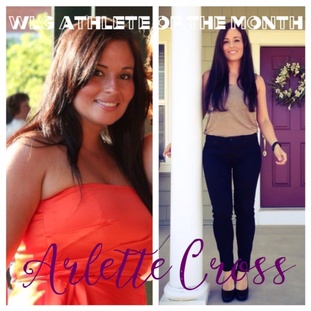 May 2015

Funny, fiery, determined, beautiful inside and out, and hungry for a change! These are the words that make me think of this girl! I started working privately with Arlette last Fall. Now she is in the Fit Camp as well as private training. She is an amazing partner in class. She motivates! She happy! She give 100% to the class regarding of the day or time. She has made strides both personally and physically since joining our WLG Family! I have watched her get stronger and stronger each and every week. It's impressive! We love having her by our side on this crazy ride! Congrats Arlette! You have worked so hard for all the results you have! You are just getting warmed up! xoxoxo K

Here's her story in her own words...In the Fall of 2014 I started looking for a personal trainer to work with me twice a week. My friend Jennifer Haas introduced me to Kendra and told me all about Workout Like a Girl Fit Camps. Initially, I needed one on one sessions primarily due to shoulder pain but also because I was just down right intimidated and did not think I would be able to keep up with a class. After five months of working individually with Kendra she started encouraging me to attend WLG classes. After attending the first class I was hooked and knew that I had found more than just a place to work out.

Most of my life I was just naturally thin even after children. I exercised a little here and there but never consistently. About three years ago I had some issues which lead me to gain thirty pounds in three months and from that point on I struggled with my weight. I was very unhappy and did not feel comfortable in my own skin. I spent a lot time on the couch hoping that the weight would just fall off as it had before after having children. Well, that day never came and I decided that my family and I deserved more. I was going to have to learn how to lose weight the hard way by actually working out and eating right but I knew I was going to need guidance.

I entered the 2014 WLG Fall Challenge, which encouraged me to start running. I remember only being able to run for thirty seconds and thinking something must be wrong with my heart. Today, I'm proud to say that I went for a nine mile run without having to stop which completely blows my mind. Exercising has become as routine as brushing my teeth.

I feel stronger and more confident now than I did in my twenties. I have minimal shoulder pain and I'm sleeping better now than I have in three years. Most importantly I'm a better wife and mother simply because I'm happier and more active.

My initial motive for working with Kendra and joining the WLG Fit Camp was for weight loss however I got so much more out of it. I got to join a team of amazing women and men who are incredibly encouraging and welcoming. I can honestly say that this has completely changed my life in so many ways for the better.

---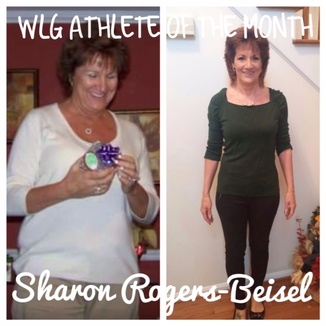 April 2015

Although I have always tried to do some type of fitness/weight/diet/exercise program, my issues truly started in 2012 when I found myself at almost 200 lbs. Desperate to try something and get back on track, I started walking and watching what I was eating. I lost nearly 60 lbs. and was getting back on track but still felt like I needed something more. Then of course summer rolls around and the pounds and pants sizes starting increasing again. I was scanning Facebook one day and a friend was getting ready to join the WLG Fit Camp and enroll in a challenge. Something about this caught my eye. I called Kendra, introduced myself, she explained the class and invited me to attend a free one. I did so and was immediately impressed. Although my first WLG class, as many, left me nauseas (excuse me for being rude, I puked my guts out), muscle aches over the next couple of days, but most importantly a workout that was like nothing I had ever experienced. I even wondered if I was going to be able to do it. Determined, I did join but also signed up for the Fall Challenge in September of 2014, within weeks I felt my body going through changes that I had never experienced in the other programs.

What really hit me was this short story: So my older brother, who has never paid me a compliment in 50 years calls one night from out of town and says "Hey, what is the name of the exercise thing you are doing". I say Work Out Like a Girl fit Camp" with Kendra, why what's up. He says, well I am out of town with a friend and she just had a baby and I was telling her about you and that obviously whatever you are doing is working". OMG… A compliment from my brother truly meant something must be starting to show. At that moment I knew what Kendra had to offer was truly working for me and I felt great. I completed the challenge and after seeing my before and after pictures and numbers, I was truly amazed at the difference of what had taken place in 12 weeks. I was amazed at the inches and Lbs. of body fat I had lost and muscle I had gained.

In January, there was going to be 5K Night Run with proceeds going to the Warriors of Tomorrow Program. I truly wanted to participate, but have always been intimidated by running. I once again doubted myself. I spoke with Kendra and asked, "Do you think I should try" her reply, "No I think you should do it". I completed the run and once again had done something I never had the confidence to have done without a push from Kendra.

My next task, would be the "WLG Athlete of the Month" I have always found their stories to be touching and encouraging. How could I earn the title of "Athlete of the Month". I had just had a conversation with my daughter and told her that the next thing on my list was how the heck to become Athlete of the Month. I would try to "bring it" each and every night giving whatever I could give that night. Some nights harder than others, some nights more tired than others, but I always pushed myself to go and give whatever I could on that night.

The things that I have found myself doing in class continues to grow each and every night as a result of the training that is offered. WLG Fitness program is absolutely one of the most intense that I myself have ever tried. I am feeling the best I have felt in a long time both mentally and physically due to the changes that have taken place in my life as a result of WLG Fitness camp.

I have continued to spend at least 3 nights a week for 1 hour with Kendra and have tried the other awesome programs that are offered. There is definitely something for everyone!!! The WLG Fitness program is the most intense that I have ever tried and the results are amazing. The enthusiasm she brings to the camp each and every night is so motivational and her passion for what she does is truly expressed in each and every workout. You never know what to expect in each workout. The one thing can count on is a great workout with a great coach. You show up, she tells you what to do, and you do it. Part of what keeps things alive is the fact you never know what to expect. I sometimes find myself wondering through the day what class is going to be like and that even motivates me more to attend. Her drive, push and knowledge has passed down to each and everyone one of her athletes teaching us "if you want go after it". The nights when I go and can't seem to find the energy to do the last burpee, push-up or surfer sprint, there she is coaching and encouraging and somehow the energy is found and that set is completed.

I am so honored that Kendra has chosen me this month. Thank you Kendra for all you give to your athletes and thank you to all the amazing friends I have come to know along the way. The support and encouragement from each of you is awesome. You all are truly amazing individuals and I am so happy to be a part of the WLG Family.

---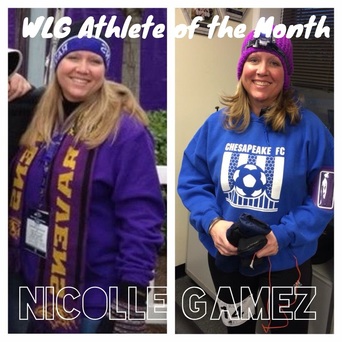 March 2015

Nicolle came to the Fit Camp last year and has fought her way to the top of the class contenders for commitment! Doing on upwards of 6 classes a week, mixing in WLG, TRX and now C3 - she is the very definition of "changing it up". She always has a bright smile, a great attitude, always willing to "show you the ropes" if you need help and 100% drive to get where she wants to go! We love having her in class, whether it's 9:30am (we miss you) or 6:30pm, she is a consistent source of strength for the WLG Team! Congrats Nicolle, you so very much deserve this award! - Kendra, xoxox

Please read more about Nicolle's journey in her own words….

I was so thrilled (and shocked) when Kendra asked me to be athlete of the month. It is strange to think of myself as an athlete since I have never been involved in organized sports or anything like WLG before. I am first and foremost a mom of 4, a wife and until last year a student, but never have considered myself an athlete until now.

I always disliked working out and had a million reasons why I didn't go to the gym...it was boring, the gym smelled like funk, people talk too much instead of working out, I had a paper due, the kids had practice, dinner wasn't finished, or the ever popular "I'm just too tired". Because of my extremely "busy" life, exercise was pushed to the bottom of the never ending "to-do" list.

Thankfully the lack of exercise was never an issue throughout primary school and my twenties. While I was never a size 0, I was happy with my size. Even with my first pregnancy, at the age of nineteen, I was only 5lbs heavier leaving the hospital post pregnancy. It was great I didn't need to exercise, could eat what I wanted and still remain thin.

However, in my thirties this all changed!! My metabolism seemed to slow down, I had 3 additional children, and a major sweet tooth. I pretty much spent the majority of my thirties pregnant and eating whatever I wanted. There is nothing worse than looking at a decade of fat pictures!

I hit a wall about 3 years ago. I was heavier than I had ever been and approaching my 9 month pregnancy weight, nothing fit comfortably (except sweat pants) and I did not like what I saw in the mirror. Forget clothes shopping that was a nightmare and I was extremely embarrassed to put on a swim suit. I even avoided parties and dinners because I was sure people would discuss how fat I had gotten when we left.

With my 40th birthday closing in, I made a decision to be in the best shape of my life in my 40's! I began dieting and working out at home with my Rip 60 and yoga dvd's. It took me 1 year to lose a total of 25lbs and about 6 months to put the weight back on.

When I first heard of Kendra and the WLG fit camps I once again had reached my heaviest weight. I remember walking into my first fit camp and being in awe of the ladies who could do pull ups, burpees and straddle squat jumps! Instantly I thought I was really going to hurt myself! I'm not going to lie, I left feeling very large and out of shape! I also felt like I was going to puke, which I later learned secretly makes Kendra happy.

After a year with WLG I feel like a different person! I am stronger and can endure more than I ever thought possible! WLG has instilled a self confidence in my workout abilities that I did not have before. What keeps me coming back, besides the diverse workouts, are the wonderful people who have become like family! Sometimes I think you have more confidence in my abilities than I do! For that I want to thank you all for pushing me to give that last little bit when it seems there is nothing left to give!

In 2013 I completed a 5k and a 10k in 2014...my goal this year is to complete a triathlon (or two) which I never would have considered a few years ago! Who knows what next year will bring?!!

---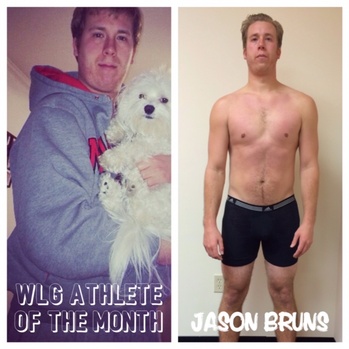 February 2015

My name is Jason Bruns and I'm 29 years old. I have been working out with Kendra and the WLG team for almost a year now. My journey was an unexpected one. As a teacher, last winter was exhausting. Yes there were plenty of snow days, which you would think would be relaxing and enjoyable but my snow days turned into sitting around with little physical activity, eating unhealthy, and really steering away from my daily routine.

My reality check came when I went to the doctors and the nurse put me on the scale. I honestly didn't think much of it but it turned out I weighed 235 pounds, the most I had ever been. I was caught completely off guard. As winter whined down my fiancé started going to Kendra's work outs at the EDGE. She would come home after each workout ranting and raving how challenging and amazing each workout was. My first concern as a guy was that I would be the only male at the workout. After one session that was the least of my worries. WORKOUT LIKE A GIRL took on a whole new meaning. It was the most productive hour spent in a gym.

Over the past year, I have given an average of three hours a week to working out with Kendra. The best thing about WLG is it's designed for everyone and anyone. There is always a modification to any exercise to challenge or support your fitness level. One thing that really turned this experience into a journey for me was participating in the 2014 fall challenge. After 12 weeks, I felt as if I had just completed a 3 credit nutrition course and got an A+. I learned a great deal of what to put in my body and what not to put in my body along with amazing recipes and workouts. With a balance of proper nutrition and physical activity I was able to drop 15 pounds in the first 4 weeks. Over the past year, I have lost over 40 pounds, several inches and my body fat percentage is down. I am now able to challenge myself even more during each work out with fewer breaks.

Joining the WLG fit camp was the best fitness decision I have ever made. WLG has had a vital impact on my physical, mental, and emotional health. I feel a huge relief after each workout, and can come home to a good night's rest. Anyone who wants to make a change in their health should try WLG, all you have to do is put an hour aside a few days a week for yourself and just show up ready to give it your best!

---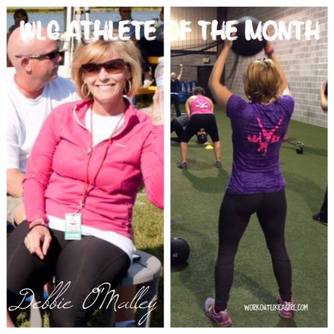 January 2015

My weight loss adventure is much like everyone else's. I believe it's about finding the one thing that works for you and sticking to it. My passion has always been running; I love to run! So far, I have run 3 full marathons and at least a dozen half marathons; I get up at 4am during the week and meet my friend Teresa, and together we do about 4-5 miles each day. No matter the weather, we are out there! Hot, humid, cold, or windy, we still run every day
.
The Fabulous Fifties HA! I was warned: everyone said it would happen, and then one morning I woke up with a spare tire around my waist. YIKES! Slow metabolism, no energy, Vitamin D Deficient; I was a hormonal nightmare!!! It was time to go out there and make a healthy change for myself.

I met Kendra in 2012 through a mutual friend; I was always intrigued by her passion for working out and truly admired her. My girlfriend Phyllis and I eventually decided to try one of her "Boot Camp" classes at the gym she previously worked at. We drove out there on a Sunday morning, nervous about what we were in for. Waiting in line, a gal in front of us said, "First time here? My first time I puked!" As if our nerves weren't bad enough already, now we were seriously anxious! The nerves all turned out to be for nothing; after the 1 ½ hour class was over we were absolutely hooked! I was so excited when Kendra later brought her boot camp over to the Eastern Shore.

2013 was a horrible year for me with the loss of my dearest friend Robin, only to lose my dad 6 months later. I was in a really bad place and neglected exercising; eating whatever I wanted as a way to cope with the stress, I eventually ended up gaining about 20 pounds. Once things settled down, I took a good long look at myself. I was embarrassed by the way I looked; none of my clothes fit me anymore, and I didn't want to go out and buy bigger ones. It was time to get back to the real me! I was tired of my same routine of running; I had taken Kendra's classes before, but this time I was focused and ready to go full force. I would read the WLG news letter every month and think how awesome it would be to be the "Athlete of the Month"!

From that moment on, I set a personal goal to achieve it. It took 3 maybe 4 challenges later and finally I got that call from Kendra "would you mind being the Athlete of the month for January"? Omg I was so overwhelmed with joy! It was something I wanted for so long and I finally achieved it!!! Not only was I asked to be the Athlete of the Month, but I placed 4th in the WLG 2014 Fall Challenge out of 105 people. I can't tell you how proud I am of me!

I still have some work to do and look forward to the next challenge it's so addicting. I look forward to boot camp now; it has made me a much stronger athlete and runner. Kendra's class has helped me to focus more on form, and I feel more confident about working out now than I ever have. She really pushes you in every class; just when you think you are ready to drop, she gives you the motivation you need to keep on going. That's what I love about her, and her classes!!!

---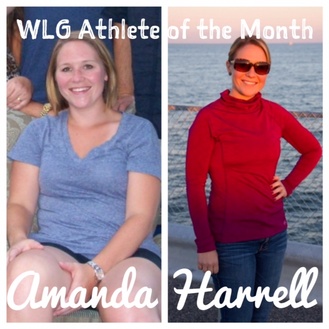 December 2014

I have always tried to stay active but I had accepted that my normal look was at my heaviest and most uncomfortable size. I had tried many different ways to lose weight that work for most, but those ways didn't work for me. I had decided that there wasn't anything more that I could do so I would just do what I wanted. Eat, drink and be merry without concerning myself with how I am affecting my body in the long term.

In January of 2014, I like most others, decided that this was going to be the year to lose weight, so I decided to start running around my neighborhood. My neighborhood is a little less than ¼ mile around and I had to run/walk around it, once. I was disappointed but knew if I tried again the next day it would get a little easier. I think I tried running for about a week and then the excuses started, "it gets dark early", "I have had a long day at work and am tired" or, my favorite, "I worked out twice this week so I am ok". I think in all I tried running for about three weeks.

In March, I was considering joining a gym and was talking to a friend about it. She had been going to WLG and mentioned that I should try a WLG class and see if I liked it. I decided before I start another gym membership, I would see what WLG was like. During my first class I wasn't able to run around the parking lot without walking for part of it. I used small weights and took a ton of water breaks,BUT I finished! That was my thought when I left. Since then I don't think I have been a week without seeing my WLG teammates in a class.

In July, a 100 mile challenge came up and that was the spark that started my running journey. I never considered myself a runner but thought that 3.25 miles a day wasn't anything too extreme; I had been working out and running in class. I got out there each day, and found 3.25 getting easier and easier. I was at the point that I could run 6 miles and decided that if I could run that far at one time, I could probably work up to a half marathon, so I signed up. Mentally I gave up 4 times during the 100 miles but I was able to talk myself into getting back out there. I did complete the 100 miles on the very last day and felt so accomplished.

After the 100 miles, I worked my weekends around my runs and dedicated my time to getting ready for the half marathon race. The week before the race I was mentally preparing and thought that I would have to walk up the hills and that the whole race would take me about 2 hours and 30 minutes. I crossed the finish line feeling like a million bucks, running the entire way and hearing that I came in at 2 hours and 23 minutes. Those 7 minutes was the cherry on top that I'm pretty sure I ate that afternoon!

I am so proud of my fitness journey. I never thought that I would be able to run for 2 hours and 23 minutes, STRAIGHT! Being comfortable in your body is different to everyone and I am finally for the first time in my life getting to the point where I feel good in my clothes, confident in pictures and ok in a bathing suit (let's be honest, do any of us ever feel amazing in one? :)

---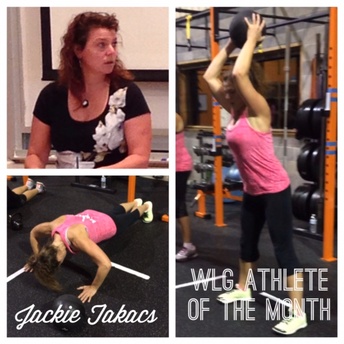 November 2014

When Kendra asked me be Athlete- of-the-Month my first thought was that there were so many other women at WLG who have been with her longer and are deserving of the honor – why me? She's convinced me that I have a nice story to tell and that I should share it - so here it is.

I'd like to say that my story started with WLG to lose some nagging "baby" weight – but given that my boys are 12 & 13 years old – that story would be more a fairy tale than anything else. Truth is, my story started about 8 years ago, not only with that nagging baby weight but also with a good case of hypertension (sounds so much nicer than saying high blood pressure). Initially I allowed myself to be treated with medication for my hypertension, albeit not because I wanted to, I hate taking any type of medication. When the pills didn't work (they actually made me sicker), I started questioning my doctor more about diet and exercise and their link to hypertension. I was a college athlete, I had coached college athletes, I completed two triathlons, I knew diet and exercise really was what I needed to do, I just wanted to hear the doctor say it. What did I get – another prescription! And it wasn't a prescription for a yoga class or a vacation but yet another pill. NO THANK YOU! That was the first time I really took things into my own hands – I studied up on the links between nutrition and hypertension, change my eating habits and joined a gym - after about 4 months I was down 35lbs, my blood pressure was under control and I had never felt better. I was actually at my college "playing" weight at age 38.

So what happened? Life.

I was successful in keeping the weight off for over two years and then as it slowly does – it crept back on. Kids grow up – they become more involved in activities - your calendar becomes their calendar. Gym time becomes chauffer time. Home cooked meals become "dinner on the road". You skinny jeans become your not-so-skinny jeans. Little by little the number on the scale and the numbers on the sphygmomanometer (aka: bp cuff measure thingy) start moving in the wrong direction.

Don't get me wrong – I wouldn't change my boys activities or limit their opportunities for one moment – I am a crazy ice hockey mom! But I was back to where I started almost 8 years ago and this time it wasn't baby weight partnering with the hypertension – it was poor eating habits and lapses in exercise weight.

All hope was not lost!

I had done it before – I knew what to do – I could do it again – right? Right? Wrong? Maybe? Over the last two years I have several starts and stops – losing 5-8 lbs, putting it back on again - why did it seem so hard?!? Ask my doctor? Answer: It's your hormones. You're 46 now not 38. Seriously??? Could it be that the gym and treadmill were boring?? Could it be that I hadn't truly committed to eating healthier? Could it be that I just needed a good old fashion kick in the butt?

Enter Evan Eichler! Not kicking my butt – but rather my two boys - and they were loving every minute of it and seeing results on and off the ice. This is what I needed. He introduced me to Kendra and her program and suggested trying one of her classes – it was more of a gentle nudge than kick in the pants.

Who are these amazing woman at 9:30am swing kettle bells and flipping tires?

Kendra Eichler and WLG athletes ROCK!!

I remember my first class – wondering if I could make it through without embarrassing myself or passing out. I figured either way – it was free – so there was nothing to lose. I was immediately hooked – I had to have more (not easy given the fact that I live and work on the "other side of the bridge"). For those of you that take WLG classes – I don't have to tell you how great they are (even when they come with too many sides of burpees) – for those you that don't – let me tell you. Every class is a combination of strength and cardio and no two classes are the same. No choreographed dance moves that make you feel like an elephant in flippers in Kendra's classes. Kettlebells, slam balls, wall balls, dumbbells, lunges, squats, mountain climbers, and the list goes on. Regardless of age, fitness level or ability, Kendra has modifications that make every class inclusive to all athletes (yes – she reminds us that we are all athletes). And her athletes – they are welcoming, encouraging and inspiring! Why wouldn't someone what to come back – over and over and over again?

Change priorities.

I made it a priority to schedule my boys trainings with Evan on days that would allow me to take a WLG classes with Kendra. After 6 weeks of classes I saw an 8 lbs weight lose and a reduction in my systolic number (bp top number). Being a fairly competitive person, the 12-challenage was just what I needed to get me to recommit to healthy eating. I always used to question (ok – more like mock) the pre-planning of meals at the beginning of the week – but it really is an essential part of establishing good eating habits (being prepared ahead of time so you just don't grab the first unhealthy thing you see). Since taking back control of mealtime, I am not only seeing a scale start to move again but also that pesky diastolic number (bp bottom number). I told Kendra the day I signed up for the challenge - that my intention was to win – and I feel like I already have – I am 5 lbs. from my goal weight, my hypertension is under control – and I am writing this (way too long) story in my skinny jeans J.

Thank you Kendra! And thank you WLG athletes!

---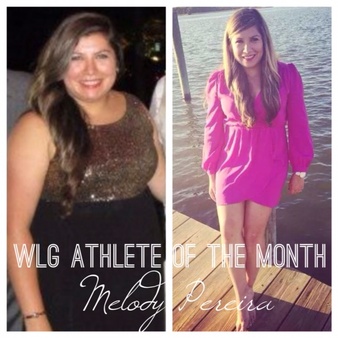 October 2014

Melody aka The Future Mrs. Bruns, came to the Fit Camp early this year. From her first class I saw that she was a fighter. She is always focused, determined, and gives no excuses! She does it all with a smile on her face and an attitude of total self confidence. Congrats Melody! You deserve every ounces of the praise you receive! Here is her story in her own words.....

My fitness journey started at the age of 5 when I joined my first soccer team. I played soccer elementary through high school. In middle and high school I played for both my school team and a travel club team. My life revolved around soccer. We had practice almost every night and traveled the entire east coast competing in tournaments on the weekends. I also played collegiate soccer my freshman year. My senior year of college I joined a women's club team. Once I graduated college, I completely stopped being active. I quickly became out of shape.

Fall of 2011, I decided to join a Co-Ed Soccer League. During one of the games, I tore my ACL and meniscus. I was devastated. I thought I would never be able to play soccer again. I got surgery the following year. The recovery process was long and frustrating with extensive physical therapy. I wasn't able to work out, play soccer, or do much of anything. I was a couch potato and ate unhealthy. I gained a lot of weight.

In 2013, I was the heaviest I had ever been. Since I was active my entire life, this was very hard for me. I hit a low point, so low to where I didn't want to leave the house. I was ashamed and embarrassed of myself and how I let myself get to that point. I had to get out of the funk I was in. I decided to make a change and get healthy. I joined a fit camp that summer and began working out 3 days a week. I was also playing soccer once a week. I saw results and felt better. I was still nowhere near my goal and was not working out to my full potential. I heard about Kendra's workouts through a friend so I decided to give it a try.

January 2014, I started working out with Kendra. I was ready to make my health my number one priority. My first night I nearly died, but I survived! I was instantly hooked. I started working out 5 days a week and could not get enough. I love her passion and how hard she makes us work, always with a smile on her face. She pushes me every day to be better. I am lifting weights I'd never thought I'd be able to lift. The best part of WLG is the women that come day in and day out. These women motivate me. When I feel like giving up, I look around and see how hard my teammates are working and I give it my all. We are a family ranging in all ages and fitness levels, all there to get fit and healthy. I don't think surfer sprints and burpees will ever be easy for me but I will keep pushing along. Thank you Kendra for helping me gain my confidence back and always pushing me to do my best.

Eight months later, I am the strongest and fastest I've ever been. My goal when I first started was to be Athlete of the Month. When Kendra asked me to be the Athlete of the Month for October, I was so ecstatic and proud of myself. I may have reached that goal but I am not stopping. This is only the beginning.

---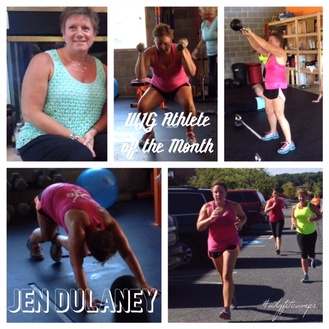 September 2014

WLG September 2014 Athlete of the Month - Jennifer DuLaney

Now starting it's 2nd season of showcasing our amazing athletes, I could not be more proud of the dedication and level of commitment each person shows during their training here with the WLG Fit Camps. Jen is no exception! She came to us this past spring and was a go getter from Day 1 and I could not have more happy when she came week after week. Now we have the awesome addition of some bonding time with her daughter in class, who proves herself that the apple doesn't fall far from the tree! We love your face Jen! Congrats!

Here is Jen's story in her own words…..

When Kendra asked me to be WLG Athlete of the Month, my first thought was that I am nowhere near reaching my goals – I still have a long way to go. She assured me that agreeing to this didn't mean I was finished but just that I was moving in the right direction.
I have always been active but I have also always struggled with my weight. I have always been a runner, but until a few years ago I never ran much more than 3 miles at a time. In 2010, a good friend and I decided to train for and run a marathon. In October 2011, we completed the Marine Corps Marathon in Washington, D.C. Although it was one of the best experiences I have ever had, I ended up with a variety of injuries. I suffered with plantar fasciitis for almost a year after the marathon and spent quite a long time in physical therapy.

In the spring of 2013, I was back into a good routine. Even though I wasn't running, I was walking several miles a day on the Cross Island trail as soon as I got off of work at 4pm. Then in April, I left the job I had held for 10 years and started a full-time job over the bridge with a 45 minute commute. Not only was I sitting at a desk all day, but by the time I got home I had no time for exercise. Three months later, I had changed jobs yet again. This time I was back doing something I loved, but still commuting over the bridge and telling myself that I had no time for exercise.

By April 2014, I was the heaviest I had ever been. I could not believe that only 3 years ago I was in the best shape of my life. Yet I still kept telling myself that I had no time for more than a few walks here and there. Then my friend Michelle invited me to go to a Saturday class with her. I always thought I was a pretty strong person, but that first day with Kendra I realized how much work I had ahead of me. For a long time, as I continued to go to class after class, I was always last at whatever we were doing. I am definitely still not the fastest or strongest, but in only 4 months I can feel the difference.

Not only am I hooked, but my 17 year old daughter is hooked as well. One of the things I love about Kendra's workouts is that there are so many different people there. Young, old, all different fitness levels – it doesn't matter what level you are on, Kendra finds a way to make the class work for you. I still hate surfer sprints and probably always will, but because of Workout Like a Girl Fit Camp I am back on track!

- Jen DuLaney

---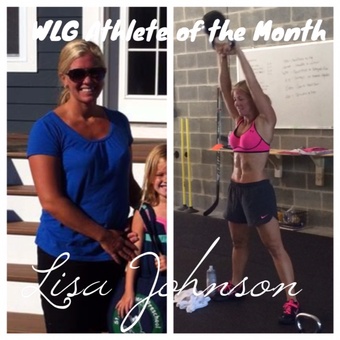 August 2014

WLG August 2014 Athlete of the Month - Lisa Johnson

This year I have met some amazing athletes to walk through the doors of WLG. This one in particular was a stand out. She was feisty. She was sassy. And she was ready. Ready to make a change in her life. And boy did she ever!! She works hard, she's a team player, and most of all she's an animal in class!! I love spooning with her face and am super proud of all the hard work she has done in the last 3 months. Congrats Lisa - you earned this! If you have never met Lisa, here is her story in her own words.......

When Kendra told me she had chosen me as WLG Athlete of the Month I was shocked, & not just because she wanted me to provide her with a picture that showcased my chubbiness for all to see!
I have been fit/active most of my life-experiencing the typical highs & lows that most everyone has- pregnancy, LOVING dr. pepper...

Just before our move back to MD last summer, I had decided yet again to get back in shape, looking to lose @ 15 lbs-to finally get off the roller coaster of letting myself down...& I was succeeding-diligently doing my Tracy Anderson dvds & watching what I ate (not just as I put it in my mouth)...but the stress of getting everything packed up & the unknown of when we'd actually get into the new house took it's toll. Then living with my parents for 3 weeks, eating my mom's homecooking & drinking all the dr. pepper I wanted without being able to find the time to get my workouts in & eventually moving into the new house, enjoying all the bounty of our new surroundings (SO delicious!) I hit bottom. Thank goodness I did! My friend, Sarah, said-"you have to come try my workout class with me". I hesitated- there was no way. So I did what I knew- I ran & did my tried & true dvds. It was working, but I was bored, & I wasn't making enough progress-I could feel the frustration of potential defeat...I was back in line to fail. I finally got the nerve in February to try WLG-it would mean I'd have 3 months before summer.
It was a Saturday morning class. I was beyond nervous. Kendra kicked my ass. I loved it. But could I do this every week? It took me 2 weeks to get the balls to commit. And I've only looked back to ask myself, "what the hell took so long?". Then I added Weight Watchers to the mix & things really took off.

I am stronger, fitter & faster than I have ever been. I can do legit pushups...I reach for the 40# kettlebell, the 20 & 25# dumbbells without hesitating & I jump higher than I ever have. I do exercises & workouts I'd never dream of doing. I roll my eyes & make smart ass comments to Kendra every class, but really I'm saying, "thank you". Thank you for pushing me beyond my perceived limits, for having more confidence in me than I have in myself. Thank you for helping me find my inner athlete again, for helping get me off the roller coaster. I hope we never stop spooning.

- Lisa Johnson

---
July 2014

WLG July 2014 Athlete of the Month - Julie Agee

The Athlete of the Month has been in effect for a year. We have seen so many stories of inspiration, dedication, passion and commitment. The purpose of telling the stories of our athletes is not only to motivate you but also to let in the inside world of the person standing (most cases sweating) next to you.

Julie has been with the Fit Camp since the beginning. Like Day 1 beginning 2 years ago. She is amazing and I love having her on our Team day in and day out. Julie is an amazing coach and a lot tougher than that sweet smile portrays which I LOVE!! She's a fighter. She's a kick butt teammate and I could not be more proud of the effort she is putting forth daily by being an amazing example of strength and determination to her family. Congrats Julie!! xoxox.

Here is her story in her own words.....

"Hhmm – I don't think I really have a story to tell"… This was my first response to Kendra when she notified me of being Athlete of the Month. I didn't have a story of inspirational weight loss. I wasn't someone who was new to getting on board with exercise and health. The truth is, I have always been active. I have a passion for running, sailing, skiing, and anything else that can get me outdoors – biking, hiking – you name it! But as I thought about things, I have realized that the story I can share is one that holds true for all of us. It is about overcoming those everyday challenges in our lives – both the mundane and the curveballs – that come our way and work to tell us we can't do it. They tell us that we don't have time, we don't have the energy, or that it is too hard and we are better off quitting rather than trying to be fit and healthy.

I have two young children, and until very recently, my husband's job required that he travel three to four days a week, every week. I do my best to manage family, home, career, and other outside responsibilities, but I have tried to make sure I carve out a small time each day to get in some sort of exercise. We all can relate to this juggling act! These are the everyday basic challenges we all face, and it is never easy. For me, the desire to be fit is more than just about the personal time. It is about making sure I am taking care of myself, so I can give as much as I can to others. It is about wanting to be energetic and able to keep up with my children, to set an example of healthy lifestyle for them. It is also about doing something I love – for me running and competing is exciting and fun. I love the motivation it provides to keep working towards a goal.

Two years ago I started with WLG. From the first class I was hooked. I love the feeling of being "pushed to my limits", and I knew the class would build my endurance for running long distances. I continued with WLG classes three days a week. Then I started AI classes and was amazed at how my strength and form began to change and rapidly improve as well. Each running race I entered I saw improvements in my personal best times and in my overall condition. No more running injuries! Running longer distances than ever! Feeling strong and happy! Hooray!! --- Then the curveball hit.

2013 was a tough year from a personal standpoint. First, a tear of the cartilage in my shoulder set me back with almost 7 months of treatment and physical therapy rehabilitation. I was heartbroken as I watched a year's worth of strength training in my upper body slowly go down the drain. I could have chosen to quit coming to class, but I didn't. I continued (many days in tears!), with Kendra giving me modifications for the exercises, and pep talks to be patient and keep doing what I could do. Quitting was not an option for me. But you know, God is often not content giving us one challenge at a time, and so this is where things really started to get interesting. Last summer I started to have some very odd symptoms begin to appear in my body. First dizzy spells. Then muscle spasms in my face and eyes. Next came tremors throughout my body along with extreme fatigue, weakness and pain in my muscles. Literally every time I would try to run or workout I felt like I was hitting a brick wall. As the symptoms became worse and worse, I became more and more worried. I thought I wasn't eating enough, or was deficient in a particular vitamin or mineral – there had to be a simple explanation. The other options I had 'googled' from my symptoms were too awful to think about! So blood tests, MRI, more blood tests …. Finally a diagnosis of Lyme Disease. Ugh. Although far better than some other options it could have been, It became clear as I started treatment for the disease that it wasn't going to be quick fix. This will be my challenge for some time to come – probably in the neighborhood of 10 months to two years before I have my "normal" life back. But that is ok. I am lucky. I am blessed my illness is treatable. I am blessed that I already have a healthy lifestyle that will be a huge benefit to me as I fight the disease. Although most days right now I struggle to find the energy to be able to move and sometimes just stand up, I refuse to let this stop me. I want to continue to work as hard as I possibly can to keep exercising, to keep competing, and keep going with my life. My new mantra is "Lyme will not beat me, will not be stronger than me and will not defeat me!!". In January I plan to run the Dopey Challenge at DisneyWorld, which is 48 miles over a three day period. I plan to run the usual marathons and half-marathons I always do throughout the fall. My doctor thinks I am crazy, but I want to prove him wrong!

I know life is tough. We all have challenges big and small in our lives, and always will. But we all have choices as well. Maintaining a fit lifestyle is a choice, and when the going gets tough to stay with it, do not make that choice to just quit. We can choose to be knocked down by those curveballs that are thrown at us, or we can choose to get up and keep going. It would sure be much easier right now for me to stop working out and doing the things I love. But I choose to fight. Do what you can do, and give it your all, even if some days your all isn't the level you want it to be. That is ok. Just pushing on and doing the best you can with your circumstances is a victory. As for me, this is one fitness challenge I intend to win.

- JA

---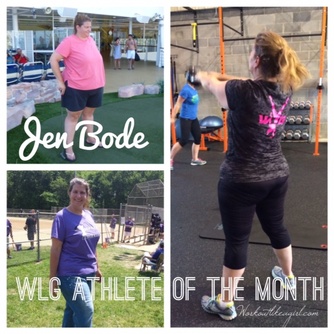 June 2014

I have always had a struggle with my weight. It runs in my family along with diabetes and heart disease. In high school I played basketball, but after I quit playing ball, the weight started coming on because I was not active. Going away to college, the weight kept climbing.

Between having my two children, I was very successful with Weight Watchers and doing step aerobics every morning and got down to 170 lbs. Still considered obese for my height, but still a huge improvement and I felt good. I got pregnant with my second child, and all the weight lost and more came back on. I was working on my Master's degree, working full time, and having two kids it was a struggle to get motivated to do anything.

My highest weight hit 295 lbs. It was time to do something. I was never diagnosed with any medical issues, but the family history was there and I had to do something. I did not want to be an embarrassment to my kids. Seeking help, I started eating a lean protein, low carb diet. My doctor told me that a good eating plan will help, but with my body type, diet only is not going to do. I had to get moving, and walking alone was not going to do it.

In November 2013, during a walk, my dear friend Carla Slye said she wanted to check out Workout Like a Girl. She told me a little about it and my first thought was she is nuts. I went with her one morning and made it through the class. Kendra knew what my weaknesses were but never made me feel weak. She gave me alternatives to keep me going, and coming back. I did my first box jump, started to run (a little) and eventually finally did a burpee. I have participated in two 5K, and plan to do more before I take on the Bay Bridge 10K in November.

I am still not at my goal weight, which by the way is MY goal weight, not what a doctor says. I still deal with food demons every day. So far, I have dropped almost 5 sizes, I can now go on airplanes and not worry if I am going to be able to fit in the seat or if I will need a seatbelt extension. This summer, I will be going on roller coasters, I have not done that in a long time and I cannot wait. Thank you to my family and friends for all your love and support during my journey so far. And to the WLG family – love you all!


---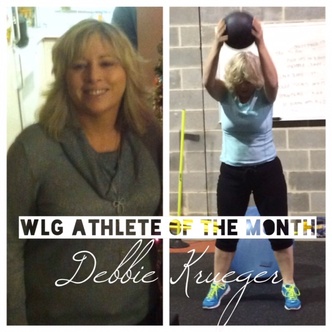 May 2014

My journey, in terms of my weight, body image and health is probably very similar to many other women's. In high school I remember always thinking "if I could just lose 10 pounds, all would be right with the world." I would eat only oranges or just eggs and the weight would come off easily (one of the many benefits of being young!) but it would never really stay off. Then after having my babies I thought if I could just lose 20, 30, 40 pounds all would be right with the world." I managed to lose weight here and there but never really focused on being healthy. I was busy raising my babies, acting as a chauffeur, and volunteering for as many committees as I could. I told myself I really didn't have time to worry about my weight or my health for that matter.

Prior to turning 40 I was determined to "get fit and get healthy." I accomplished those goals. I lost a lot of weight and worked out at a gym regularly. I felt great. I felt the best I had in many years, so imagine my surprise when on my actual 40th birthday I was diagnosed with Hodgkin's disease! While most people seem to lose weight while undergoing chemotherapy I actually gained weight! The only drugs that helped fight off the nausea was steroids and my taste buds were such that I could only tolerate eating certain foods which of course were all highly fattening! The weight crept back on and I was feeling so poorly that I had no energy to go to the gym. For 10 years I have told myself I would get back into shape. But again, for 10 years, life got in the way (or at least I told myself that). My kids were older but still needed rides to their various activities, I still volunteered at school, and sat on the boards of different PTA's and helped organize many different activities for the various schools my kids attended. I had no time to exercise.

As my 50th birthday approached I again made a promise to myself that I would lose weight and get healthy. My kids were older now and I had more time to spend on myself. Let's be honest, it takes time to get in shape and you need to either have the time or MAKE the time. I am at a point in my life where I decided I could and would MAKE the time. My goal was to run a 5K by the time I turned 50. I began working with a nutritionist, walking with a friend and attending Zumba classes. I was losing weight but still felt like I should be and could be doing more. Jen Bode kept posting things about Workout Like A Girl Fit Camp on Facebook and I kept looking at her posts and wondering what it was all about. I finally asked her, and she invited me to come to class with her. In that instant everything changed for me. I have been coming to class for the past 4 months and feel better and stronger than I ever had. Kendra pushes you to do your best each and every time and while I can't say I love exercising I can say I love the feeling of accomplishment I have after each and every session. I ran my first 5K in March and am running another one in May, all because of Workout Like A Girl Fit Camp.

---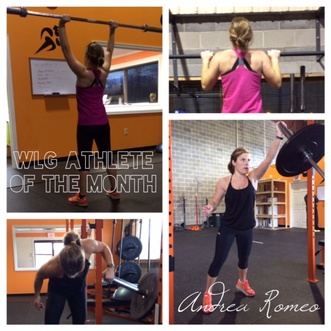 April 2014

Fitness and health have always been my passion. I can remember watching my parents doing various workouts at home when I was growing up and trying to do the workout along side of them. I grew up playing field hockey and lacrosse and swam competitively in the summers. I started lifting weights when I was 16 with my sisters. We would go to the gym together and they would show me what to do. I kept the same routine through college adding in Spinning classes and started running. I have run 2 half marathons and was running about 4 miles a day after I graduated college. Unfortunately, this led to having issues with my feet and my doctor told me to cut my running back significantly. I tried new workout DVDs and I liked them but always got bored. I was always looking for the next best thing to get in shape and to challenge myself.

I met Kendra in the summer of 2012 at the gym I was going to. She was teaching a boot camp style class that my sisters and I had always wanted to try. After we tried it, we loved it. When we moved to Kent Island, Kendra had just started WLG and I was hooked. When I first started, I remember barely being able to use the 12lb slam ball and the 20lb kettle bell. I couldn't do a handstand and definitely couldn't do a pull up. WLG has pushed me every single class and I have grown stronger every day, not only physically but mentally as well. Kendra has worked with me through two injuries. (I am probably the only person to ever sprain their ankle while doing a handstand push up) I am more confident and stronger than I ever have been. I leave class almost every night with a new accomplishment, whether it is increasing my weight, jumping on a higher box, one handed handstands or doing a pull up without the bands. I look forward to going to class every time to see what else I will be able to achieve. Thank you Kendra and the rest of the WLG team for pushing me day in and day out!


---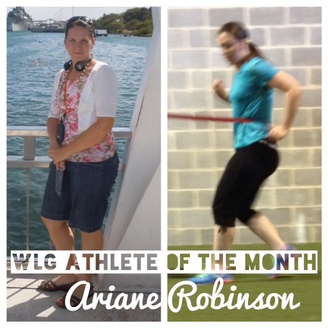 March 2014
My story working out with Kendra begins last summer. Last summer, I had reached a point in my life where when I looked in the mirror, I didn't recognize the person looking back at me. I had made excuses for a long time about not working out and eating well. I could no longer meet the demands of my life. I was the heaviest I had been in my life, I had zero energy, my back hurt most of the time, and I was not a lot of fun to be with. I had reached a point where I knew, I really knew that if I did not make a change I would not be able to have the quality of life I wanted for myself and family. I was unsure if I had what it took to make the changes I needed to make.
Then one fateful hot day in July, I was swimming with my children at my friend Julie's community pool. Kendra was there swimming with her family as well. Julie who had been working out with Kendra for some time introduced us. I learned about Work Out like a Girl for the first time! (Hallelujah) That day I committed to Kendra that I would come and give her class a try. I was nervous and unsure that I could do it, but she assured me I could!
The next day I went to class and just about died! Kendra worked my tail off like it hadn't been worked in years! I could barely walk that week. I was sooo sore, but Kendra kept encouraging me and helping me to see that I could do it! I was also encouraged by the other athletes I met there and they inspired me to want to be as tough as them! I decided to give the class a try for a week. That week has turned into seven months.
There have been lots of ups and downs over the past seven months and Kendra has encouraged me the whole time. I have felt myself get stronger and that is exciting! I am still a work in progress when it comes to getting in shape. However, I can burpee with the best of em'now! Thanks Kendra for believing in me when I didn't!
---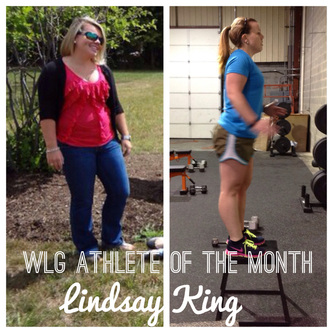 February 2014

My journey is just like everyone else's – waves of ups and downs of being active and healthy to just doing nothing at all. Before I found Kendra, I would go on workout binges. I would work out for four months and then something would come up and I won't workout one day and so on until it led to slow progression of not working out at all.

I used to be involved in sports all through middle school, high school and college. I was recruited to play colligate field hockey, which has been a dream and ambition of mine since I first picked up a stick. I had high expectations for myself when it came to field hockey. During high school my life was devoted to and consisted of hockey – I was playing on the high school team, a traveling club team and area leagues. Not only were my parents shuttling me back and forth from field to field, but also shuttling me back and forth from one trainer to another. I was working with agility coaches, conditioning coaches and personal trainers.

I went off to college to play field hockey, but my dream was cut short when I tore my Achilles tendon during preseason. I went from being overly active to walking around on crutches and in a boot for six months. I didn't let my injury heal completely which only led me to tearing it again and came to the tough decision of not play again.

Not playing quickly brought me out of shape again because I was afraid of injuring myself again. The summer after I decided not to play, my mom and I joined this new Zumba studio and our instructor gave me the motivation to get back in shape, to be confident and proud of myself. With the newfound confidence, I made a new year's resolution that year to be in the best shape of my life and to be smaller. I was determined to be successful at my new year's resolution. I was in the gym 6 days a week, running 2 miles a day and doing P90X. I was the smallest I had been since high school! I continued the workouts all summer long until I took a job that required me to literally live out a suitcase and travel to different college campus for 9 months out of the year. Eating campus food and not having access to a gym, there went that resolutions! I did this job for 2 years and my body got the brunt of it all. I went from being the smallest to the heaviest I had been.

When I took a new job back home, I went back to doing Zumba to my "groove" again. But, then my work schedule started conflicting with class times. So I started going to the gym but I got bored with my workout and stopped going. I tried running and riding my bike, but the scenery got old, so I stopped cause I was tried of doing the same exact thing. I wanted to do cross fit, but it was too expensive. I wanted to do fit camps but the times didn't fit my schedule. I needed to do something and something ASAP because I knew my winter clothes, especially my pants were not going to fit.

Then I came across the best thing, I stumbled across Kendra's page on Facebook. This is what I had been looking for – variety in workouts, crossfit and fit camp exercises. As I checked out the page, they had an upcoming challenge. This is AWESOME. This is what I was yearning for. If I do the challenge for 12 weeks, "I HAVE" to work out! Well now, this hasn't become "I HAVE" to this has become "I WANT " to! I want to come to class every day because I am addicted. I am addicted to variety, the everyday challenges in the workout and I am addicted to being a better version of myself.

Kendra, her challenges and workouts have made me a better version of myself in just four months. I am happier than I was. I am less stressed out at work (thank god for slam balls). I have more energy. I see myself in a completely different way. And most of all, Kendra as taught me the most important lesson - not get down on myself. During the challenge, the scale would not budge; it took me 8 weeks to finally see the scale move. I got discouraged that it wasn't moving fast enough but every weigh in, Kendra kept telling me "don't pay attention to the scale right now it will eventually move, just pay attention to your measurements they are going down and you should be proud." Thanks to Kendra, the WLG team, and all of their motivation, I didn't have to buy new pants cause they were too tight, I had to buy new pants cause my old ones are too big!

---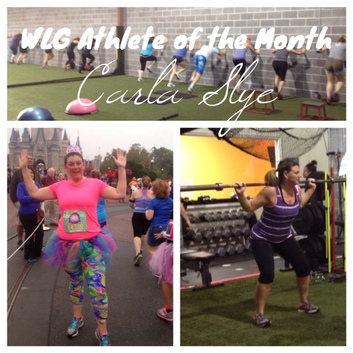 January 2014

Happy New Year WLG Team and Friends,
I would like to ring in the new year with an introduction to a very special woman. Carla comes to class every day with a positive attitude! She is ready to make changes and get in shape! She makes no excuses. She gives 100% and it shows. It has been a privilege to be part of her journey and there is not stopping anytime soon! Congrats Carla and thank you! Here's her story in her own words...

Well here goes. I am not going to lie. I have tried all the fads out there from diet pills, box sets, Dr. Oz "How To" Books, creams….you name it! But what else do you expect from someone who weighed 226lbs? In 2006 I had my son, but that was no excuse to abuse my body and eat whatever I wanted and I felt like enough was ENOUGH! At that time, I started to workout like a mad woman. 5am Bootcamps, signups for 5K's, etc. I felt great! 2007 was a great year, that is until I lost my Dad. I fell into a major rut. Then with the help of friends, I started doing runs for charity, Warrior Dash, Baltimore Marathon Relay Team, but unfortunately I had to slow down because my knees were screaming and my hips hurt. I was told by a medical professional not to run anymore. Ugh! I fell into a run again! At this time I was 200lbs. I started walking since I couldn't run anymore. And why not? My friend Barb and I set a crazy goal and did the Princess Half marathon walking (well we ran some…had to or we would have been picked up by pacers).

Well, I discovered that walking wasn't enough since I hit the dreaded "40". BAM! What the hell happened? No energy? Check. Vitamin D deficient? Check. Metabolism slowed way down? Check. Hormones out of whack? Check. OMG! I sadly fell into a rut again. My hubby said nothing would work except exercise and portions size and that's the only way to lose it and keep it off. Yadda yadda yadda. I love to workout but had no desire for it at all! Then out of the blue a friend, Julie was posting on Facebook about the WLG Fit Camps. Then I see my cousin Shelley talking about how great she feels. I just had to ask. Well November 8th, 2013 changed my life. I took the class and wow!!! It's the @ss kicking I needed. LITERALLY! I was intimidated at first, but I have never met a more supportive group of very inspirational people. Everyone has a story that you can relate to. I quickly discovered that we were are all there for the same reason. A lifestyle change!

Not only was I working out wrong, I wasn't paying attention to my body. I have learned to wipe away everything I did in the past. I now focus on form, technique and stretching. My knees? Oh my knees are just peachy now. If I was given these tools back then, I may have prevented a lot of injury. I am 42 now. 7 weeks into the Fit Camp and 23 workouts later under my belt, I can honestly say that not one workout is the same which I LOVE! I feel GREAT! I have muscle tone in places I never thought I would. I am so much stronger physically and mentally. This group makes me what to challenge myself everyday. I set small goals and get so excited inside when I make it happen. Thank you Kendra and the Workout Like A Girl Fit Camps!

---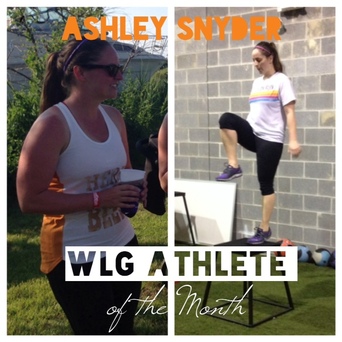 December 2013

Ashley came to the WLG Team in September and has proved to be an awesome teammate always up for the most challenging of classes. She currently attends the 6 (Level II) and 7 pm (Level III) classes. She is on an amazing path of putting herself first and has no plans on slowing down. Congrats Ashley, well deserved! Here is her story in her own words...

If I was to describe myself, I would definitely have to put the word competitive in there somewhere. I started playing sports in 3rd grade. I played soccer, lacrosse, and ran track in High School. I was a 1st Team All-American lacrosse player in college. After school I joined post-collegiate soccer and lacrosse teams and began coaching. I was always so active and in shape that I never bothered to worry about the size of my clothes or the weight on the scale. I have an "athletic" build so I have never been a super small person but I was always muscular and fit. After my 2nd child was born, I started running. I completed 3 marathons and countless smaller distance races. It was nothing to go for a 10 mile run or be in the gym getting a good workout in. I figured I would be that active forever.

After my divorce two years ago, I became a single mother of two school age, sports playing children with a full time job and the full burden of what used to be shared responsibilities. It was overwhelming at times and one of the easiest things to cut back on was the time that I spent on myself. I did this without really realizing that I had.

As things have started falling back into place, I realized that the only thing that I didn't love about my life was the way I felt about myself. The only person that was going to be able to change that was me. Nine weeks ago I joined WLG with a weight and clothing size goal in mind. Since I have been working out consistently, the numbers on the scale haven't changed much but I've lost inches all over and I have adjusted the way that I look at myself and my fitness goals.

When I was super active, I didn't care about numbers. And I want to feel that way for the rest of my life. Instead of worrying about the size of my jeans, I want to be able to do 15 jump squat burpees with 15 lbs in each hand without having to take a break in between. I want to be able to do a set of chest touches without having to take my feet off of the wall. I want to be able to do a pull up without using the bands. I want to box so hard that I knock Kendra over If I can achieve these goals, I will be taking care of the other numbers without obsessing about them. Once I am able to do all of this, I can set new fitness goals and I will never run out of ways to keep pushing myself and to be a better me. And the best thing about looking at working out and my body in this way is that I am teaching my children that it is important to feel good about yourself and stay in shape for your health and mental well being but that being a certain shape or size isn't the be-all and end-all of life. Thank you, Kendra, for helping me love me again!!

---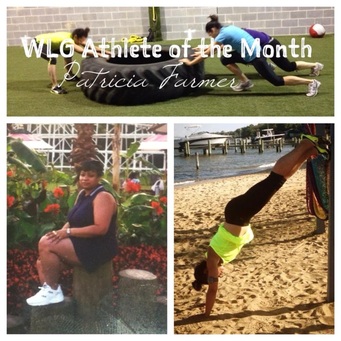 November 2013

In spring of 2008 I realized that I was now going from a size 18 to 20 and was frustrated with yet again buying a bigger size going into a new season. A co worker who was very fit persuaded me to start walking with her 3 times a week. I dreaded sometimes to meet with her but, she was a friend and I didn't want to disappoint her. She wore a heart rate monitor and often would slow down to wait for my fast walk to her jog. I completely cut out fast food and my 198 lb weight quickly dropped to 178. Over the next course of a year I joined several weight loss programs weight watchers, flat belly diet etc. and with little weight loss success lost and regained 10-15. In 2010 I joined Lady of America and started taking group fitness class. Over the course of that year I lost another 20 lbs.

About that same time the gym closed and suggested we transfer our membership to Golds. Golds offered personal training with new members. Excited about my new size and a new gym I decided to take it to the next level and get a personal trainer. In addition to training I started to make more conscious decisions on my food and started to develop more muscle in addition to weight loss. In addition to the personal training, and group fitness classes I felt so strong and confident I started taking boot camp classes. The last two years I have been in the best shape of my entire life . Have built so much strength and endurance with the help of a wonderful coach who motivates and inspires.

My confidence has been built so now I am actually a group fitness I instructor and am working on getting certified to become a personal trainer. I hope to I inspire others to know that you can do anything you put your mind to and it is never to late to to become a healthier you! To date I have lost 70lbs. and fine from a size 20 to a size 4.

---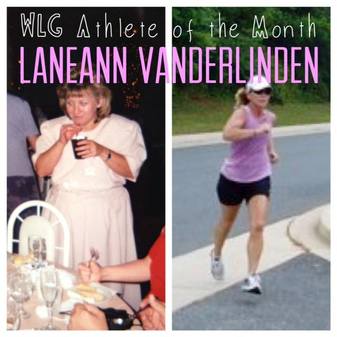 October 2013
I was always pretty active when I was younger, but when I got married and we decided to start our family I always got really sick with each pregnancy. This caused my metabolism to slow way down because I basically did not eat for about 12 weeks. Once I was able to start eating again I was starving, and was not able to be very active during the latter part of the pregnancy. After the babies were born it was even harder to work out and I made a lot of excuses. I hit my highest weight after my youngest was born, around 198 pounds. I did start going to the gym but I didn't change my eating habits and so I was only able to lose about 25 pounds. When my youngest turned 4 I decided enough was enough. I started changing my eating habits with the help of Weight Watchers and I made it more of a priority to work out. Doing this helped me to lose another 55 pounds. For the most part I have been able to keep it off, but it is an on going challenge.
As I have gotten older I'm not able to stay the same weight I was when I first lost it all, but I don't get discouraged and I make sure I keep to a healthy weight. I have to keep myself motivated. I started to get really tired of my same work out routine that I had been doing for about 8 years, so I decided to try the boot camp classes through
Workout Like A Girl Fit Camp
. They have helped me to stay focused on both my eating habits and my fitness levels. I have also found that adding strength training/cross training to my running workouts has helped me become a stronger runner. I have learned skills to help me become more of a well rounded athlete. It is much easier for me to get up and work out when I have a variety. My muscles are constantly being challenged because of the varied routines.
I never talk about being on a diet because I don't believe in diets. I feel that you have to make changes that you can live with for the rest of your life. I will always have to be careful about what I eat, but I try and make sure that I stay on track. If I get off for a little while I get right back on. Being around others who have the same goals and struggles helps me to stay motivated.
---