2017 12 Week Summer Strong Challenge
​Winners Circle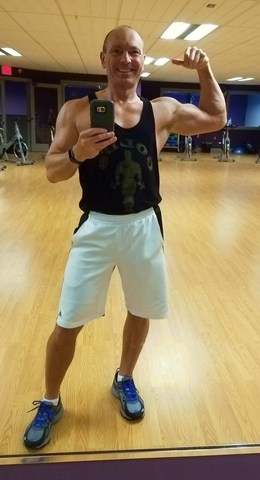 ​GRAND PRIZE WINNERS

​1st Place - 12 Months of UNLIMITED C3 Training
Kevin Miller

45 pounds LOST
19.2% total bodyweight LOST
18.5 inches LOST
---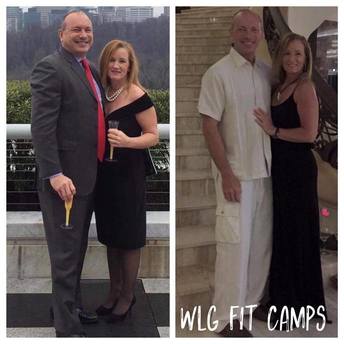 ​Life for many these days can be very challenging and quite frankly you don't grow out of shape overnight as I've been in decent shape previously. For myself, fall & winter was an enjoyable time spending the holidays with loved ones and celebrating. I was shocked how I looked in various pictures post holiday and quite frankly didn't like my appearance. Yet when I looked in the mirror there was much to like (almost a dual world), happy in life but saw the pictures after the fact and said "Is that really me physically?". I'm blessed to have 2 wonderful young boys along with an amazing girlfriend Lori. I thought I was active in my life before but not to the levels I may have thought

Lori and I had discussed starting our workouts post holiday but life helped us avoid any regular routine. Interestingly, the fact that Lori worked out was a major attraction for me when we started dating. Dating is challenging and quite frankly we had much fun together. To be frank, I begrudgingly agreed to sign up for the challenge as a couple, but had my worries that it would hurt our relationship. Lori laughs to this day that I laid down the ground rule, ok I'll do this but we will not work-out together (my fear of damaging) our relationship.

It was definitely intimidating walking into a new gym with many strangers but I embraced the challenge. Evan's C3 class became the class I loved to hate but I kept returning because I liked the challenge. I especially appreciated Evan's personality, individual approach and focus on doing exercises properly. There were many tough days with soreness and trying new exercises but we thrived as a couple together. For the many challenges there were so many positives.

It was challenging but the positives came easily. We found a routine which worked for us and there was definite tweaking/adjusting throughout the 12 weeks. I didn't join this challenge expecting to win but I became competitive towards the end as I saw the many positive changes happening to my appearance. I embraced and enjoyed the daily routine and found so many positives along the way. I could never have done this without the support of Lori, my children and parents. I am so thankful for this.

Kevin Miller, Ai Athlete

---
Stephanie Rose - 2nd Place
​-23.2 pounds LOST
-16.3% total bodyweight LOST
-15.5 inches LOST
-11.6% bodyfat LOST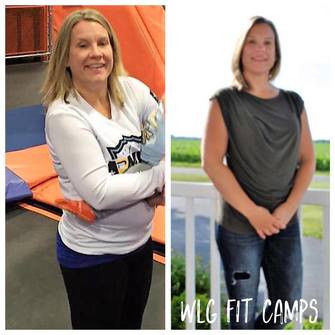 Kathyrn McAllister
3rd Place - 3 Months FREE WLG Training Mon-Friday
​
-15.5 pounds LOST
-10% total bodyweight LOST
-13 inches LOST
-8% bodyfat LOST

WLG 12-Week Summer Strong Challenge has been a wonderful experience, an experience that I did not expect to be successful for me because I was TIRED! Working two jobs and being a mom can be rough so I needed a push to get started. We preach self-care in my job but I was not practicing it. My clothes were tight, I was uncomfortable and had no energy but most of all I had to do this so I can be a healthy mom for my children. Structured diets like Weight Watchers worked well for me in the past but not this time, I couldn't wrap my head around the prep nor take the time to plan my meals. With the support and encouragement of friends, some of whom were successful with WLG challenges, and my husband, I decided to take the plunge and sign up. I was nervous, didn't know what to expect and scared I wasn't going to make it through the first WLG class. When I arrived for the day 1 weigh in, I had a range of emotion but immediately felt great positivity and comfort in the room with fellow ladies and a few gentlemen who decided to take on this challenge. Kendra, Evan and all the WLG team were super motivating and encouraging.

The biggest part of success on this journey for me was the meal planning and journaling. I am a rule follower to an extent so having the meals planned for me was the key. The journal was eye opening for me as I was amazed at how many times I would go to take a bite of something while cooking, prepping kids plates, kids snacks, etc. I started to realize immediately that every bite does count and "if you don't write it down, it didn't happen". For me, the best part of the meals is the snacks, and every week I made the snack first!

The first 6 weeks were the hardest for me, despite the pounds coming off, I still felt weak. Kendra has a wonderful way of motivating during class despite my whining! WLG classes are hard yet fun and they really push you to the max. I drove 40 minutes every Saturday and I loved every minute of "my time", the supportive environment and comradery with fellow challengers.
In reflecting on the 12 weeks, I did not start this journey to win anything and I never imagined I would win a prize. My prize was having my pants fit! I am looking forward to the Fall challenge and continuing to grow mentally and physically. I never thought I could do this and I am beyond thankful that I started this journey.

Kathryn McAllister, WLG Athlete
---
Transformation Prizes (Age Divisions)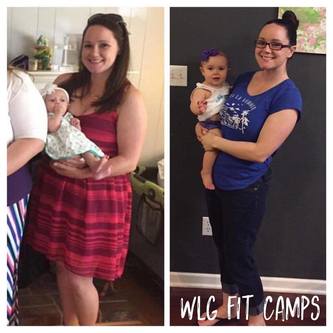 Brittany Augustyniak
1st Place (Age 16-34) 3 Months FREE WLG Training Mon-Friday

-23 lbs. LOST
-15.7 inches LOST
-6.5% bodyfat LOST
-14.1% bodyweight LOST

I joined the WLG Challenge on whim, as my friend wanted to participate also. I didn't really know what I was getting myself into, to be honest. My 4th baby was now 9 months old and I thought it couldn't hurt to help get me back into my pre-baby body. As the start of the challenge approached, I started to realize just how big and serious this is! This is way more than just eating healthy and working out. Not only do you have the option of what classes you would like to attend, you also get weekly meal plans (with shopping list!), dietary support but also access to a group of the current challenge participants that are always positive, supportive and helpful with any questions you may have. Once I saw how in depth this challenge really is, I decided that I was 100% committed. I knew it was going to be an adjustment for me, but hey, I signed up for this, and it's only 3 months. I can do anything for 3 months.

The 3 months that the challenge took place in were a very difficult time for me. I was spending 3+- nights away from home and my family driving an hour away to take on nights shifts to care for my sick grandmother, often getting home at 1/2am. I also have 4 small children (8,4,2,infant) to keep up with. While it would have been a lot easier to eat on the road, or order take out for the family instead of cooking meals, I wanted to stay committed, and the challenge gave me something to focus on. I learned to figure out what my "favorite" meals were, that could also be frozen. Every couple of weeks, myself and my friend would get together and cook all of our meals. My food saver was a LIFE SAVER! pancakes, french toast, grilled chicken, soup, cookies, granola bars, you name it, they all freeze great and stay fresh in the vacuum seal package. This really meant that my only thing I needed to do for any meal was either have fresh mixed greens on hand, or eggs. Easy! I was easily able to stick to the food portion of the diet, simply by planning ahead. Halfway through the challenge I got the flu. After not eating, the last thing I wanted to do was eat chicken. That's whats great about this challenge. Not only were there plenty of alternative food options (aside from the weekly meal plan which you DO NOT have to stick to by the way! It's just a suggestion) but if I wanted some comfort food, I'm allowed to! No one can stay perfect, not even for 3 months. You don't want to be that person at a special celebration, that wont eat or drink anything, because their on a "diet". Enjoy yourself! I make cakes as a hobby and I have to admit, cakes are my weakness. I enjoy tasting the fruits of my labor, and every once in a while, it's OK! Moderation is key. But the tools they give you with the challenge, also help you realize healthy portion sizes, and how "better" or "worse" some items can be.

Given my busy schedule away from home, and my husband working long hours, I was lucky to make it to the gym 1 day a week. It also left me with almost no time to do any additional work outs throughout the weeks. Even then, I still saw great results! If your worried that you don't have enough time to join, trust me, you do! The simple tools of the bonus workouts and food suggestions is worth it alone. This is the second time I've done "clean eating" (the first was with my 3rd born, who had severe food allergies) and it's true what they say. You feel so much better when your putting clean things into your body. I feel great, saw great results, and it was a great experience. I'm looking forward to the fall challenge!

Brittany Augustyniak, WLG Athlete
---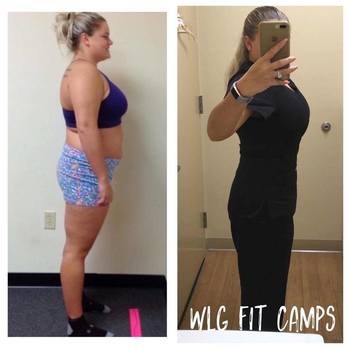 Kristina Boss
2nd Place (Age 16-34) 2 Months FREE WLG Training Mon-Friday

-27.8 lbs. LOST
-21 inches and LOST
-12.2% bodyweight LOST

​This 12 week summer challenge was the first challenge I had ever done. This was also my first time ever coming to WLG. With that being said this has been by far one of the best decisions of my life. Everyone associated with the challenge has been helpful in changing my life, from the trainers to my classmates, they have all taught me. The first weigh in was tough I wasn't actually prepared to see the numbers that I saw. However I knew in my head that joining this challenge was going to be my best bet. I wanted to have as little of the deductions as possible and having the meal plans every week was a learning experience. Every saturday I spent meal prepping after class, I cooked everything for the whole week. Which is where some of my success came from, coming home from work or WLG and not having to cook food was amazing. And then the second weigh in happened and I was over the moon, and every weigh in after just continued to push me. Watching the pounds and inches literally falling off changed my future, being excited about coming to WLG classes and eating healthy has made me extremely happy. Saying I have struggled with losing weight in an understatement, however the tools this challenge gave me will help me succeed in the future.
---
3rd Place - Kary Coligan (Age 16-34)
13.5 lbs. and 9 inches GONE!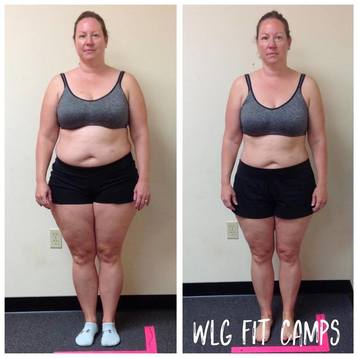 Kathy Nolan
1st Place (Age 35-50) 3 Months FREE WLG Training Mon-Friday

- 31 lbs. LOST
- 19 inches LOST
-10.5% bodyfat LOST
- 15% total bodyweight GONE!

I joined the the WLG 12 week weight loss challenge because I had gained over 60 pounds in the last 5 years. I had become depressed and it was starting to affect my relationships. My husband kept telling me I needed to lose weight, which just made me gain more weight.

In the middle of the weight loss challenge, my husband told me he was leaving me. I think that actually gave me the motivation to do this challenge for myself. It was a struggle everyday for me to try to eat well…but with Kendra's weekly guidance with the meal plans it really helped to motivate me.

I am hoping the progress I have made during the challenge continues afterwards.

Kathy Nolan, WLG Athlete
---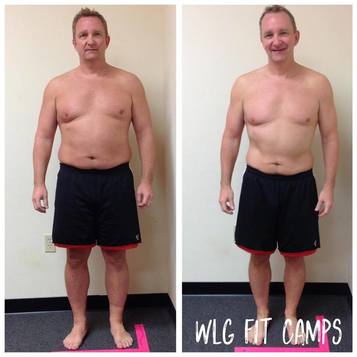 Gil Humphreys
2nd Place (Age 35-50) 2 Months FREE C3 Unlimited Training

-31.5 lbs. LOST
-16 inches LOST
-6.4% bodyfat LOST
-14.1 total bodyweight GONE

​​I'd like to start this narrative by giving thanks. Everyone knows that WLG is not just a neighborhood gym. It's a FAMILY. Kendra and Evan have built a company where people come together on a very regular basis to sweat, joke, smile, help and support each other. They regularly support the community with charitable efforts and provide a venue for people to help each other. They make a difference in this community. To borrow a term, I learned at The Edge – you guys are amaze-balls!

I'd also like to take this opportunity to thank my Wife Beth Humphreys. We joined this challenge together. We supported each other the entire 12 weeks. Thanks for preparing all the meals and always encouraging me. Thanks for working out with me, listening to me whine about not being able to eat chocolate cookies and just being you. To borrow a phrase from someone who I'm sure is famous in their own wright – you are the bomb diggity!

As you all know, the challenge is not easy. To complete it takes a lot of will power. You experience highs, lows, ups, downs, burpees, kettle bells, quinoa and water. Did I mention water? 67% of your body weight in water per day for 12 weeks. That's a ton of bathroom visits. Of all the changes I've made, I'm happy to say hydration is a habit that is now a daily routine. I now recognize when I am dehydrated just by how my body feels.

To be successful in the Challenge – always keep going forward. It's easy to get down if you screw up and eat a cookie, miss a workout or injure yourself. Most of us are not perfect – know that going in. Celebrate successes and don't dwell on failures. Be realistic about your goals – push yourself. You can do more than you think you can. Don't be afraid to say goodbye to bad habits and replace them with healthy ones. You'll be glad you did!

Gil Humphreys, Ai/WLG Athlete
---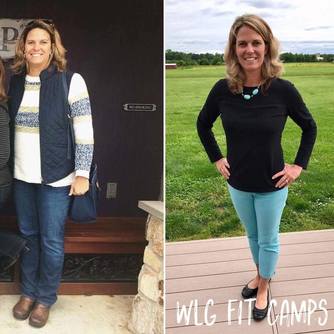 Dina Clark
3rd Place (Age 35-50) One Month FREE WLG Training Mon-Friday

-23 lbs. LOST
-19.7 inches LOST
-5.7% bodyfat LOST
-13.2% bodyweight GONE​

In the spring of 2014 I tore a tendon in my calf. To make a long story short, I ended up with a DVT in my leg and multiple blood clots in my lungs. Doctors told me it was a miracle that I survived because one of the clots was a large saddle PE in the middle of my chest. I spent a week in the hospital and two months at home "taking it easy" before going back to work. I joked that I was 40 on the outside but felt 80 on the inside. We were blessed by friends, family, and members of our church who provided meals for us. However, the comfort food and the lack of activity eventually caused me to gain weight.

My recovery was long. Two months became two years and I was extremely discouraged. I was weak and continued to feel dizzy and out of breath. I knew I had to do something to get healthy. I prayed for strength and perseverance to make the healthy changes I needed to make. It was a slow process at first. I started walking and added an exercise class once a week. I began to feel better but I wasn't losing any weight.

Sherri, a friend in the class I was taking, told me about the WLG Challenge. She was excited about it and asked me if I wanted to do it with her. I made a lot of excuses as to why I couldn't - "It was too far away", "I didn't have time", "I still wasn't feeling well". Fortunately, Sherri didn't give up on me. She encouraged me to contact Kendra to see if I could join even though the challenge had already started. Better late, than never! Kendra met with me and I set my goal to "Breathe Strong, Be Strong." I had two other goals in mind: to run a 5k by the end of the challenge and be fit enough this summer to surf with my boys who are 19, 16, and 12.

I chose the online Nutrition classes with Billie as my challenge perk because I needed to learn to control my portions and eat healthy foods. The weekly menus and the nutrition sessions completely changed the way I think about food. Sherri and I participated in the Saturday morning classes and there were moments (probably during burpees) when I thought I was crazy for attempting this challenge! Thankfully, Laneann showed us how to modify the exercises and still get a great workout. Even though I could not get to Kent Island every day, I exercised daily. Some days I would walk; other days I would take a class or use an online video. I started lifting light weights. The accountability of logging water intake, food, and activity kept me on track. The pounds started coming off and I felt stronger. In April, I participated in a 5k by walking and running. I was so motivated by the results I was seeing. On May 6th, I ran a 5k and checked off my first goal. It was an incredible feeling running and knowing that three years ago I couldn't walk three steps without getting winded!

I look forward to setting and accomplishing new goals: firming up with the summer school challenges, running, biking, and finally catching a wave! I also can't wait to share the fall challenge with friends because it works! The challenge far exceeded my expectations! I am thankful that my husband and boys encouraged me to exercise and eat right and they were good sports about trying new meals. I am extremely grateful to the staff and fellow athletes at WLG for the knowledge and encouragement that they shared. The WLG Challenge has given me the key that unlocked the secret to being healthy again!

Dina Clark, WLG Athlete
---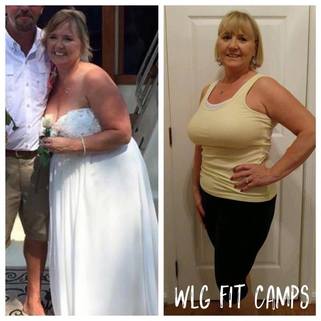 Shari Neighoff
1st Place (Age 51-70) 3 Months FREE WLG Training Mon-Friday

-21.5 lbs LOST
-16.5 inches LOST
-9.1% body LOST
​-11% bodyweight GONE

​I would like to start off by saying that I am truly excited and humbled about winning first place in the "12 Week Summer Challenge" for my age group. A lot of people worked a lot harder than I did, and they are all winners as well. I have never won anything that I had to physically work so hard to achieve, but in my eyes, whether I won the challenge or not, I was still a winner. I had achieved so much more than just weight loss and stronger muscles. I have changed my life! As hard as I worked I could not have done this without the WLG family pushing me. Kendra, Traci, LaneAnn and Billi Walton, you kept and continue to keep me motivated and inspired each and every day. These guys are amazing. They helped me to accomplish something I just couldn't do on my own.
WLG is like no other gym, they are personable and give you a lot of one on one. They care about each one of us and want nothing but for us to succeed. You go in there not feeling intimidated like in all other gyms and you come out feeling like you have accomplished something each and every time. All I can say is it has been and will continue to be an amazing journey for me.

That being said, my journey began a long time ago. I have struggle with my weight most of my teen and adult life. I was constantly up and down in weight. In my younger years it was easier to lose however, after age 45 I really struggled to lose the weight and continued to see my weight go up and up. After a hip injury from a fall from my boat 4 years ago I have struggled to walk without severe pain in my hip and lower back. I also have a ruptured disk in my lower back. Little did I realize how much my weight played a part in my pain. I was very leery of doing any kind of workout. I also used this as an excuse. After almost reaching an undisclosed number on the scale (We all have our own number), I said enough is enough. I decided to try WLG after seeing amazing results from my niece Kayla. I decided to give it a try. I went to my first class and all I can say is "WOW". I couldn't even make it through the entire class. I was dizzy, light headed and sick to my stomach. Little did I know I was so dehydrated and even more out of shape than I wanted to believe. I thought there is no way I can do this. This is too hard but I had no idea what I was about to feel the next 5 days. I couldn't walk, sit or even move, every muscle in my body hurt. I realized then that I was so much weaker than I thought and I really needed to make a change now. So I went again the next week and did the same thing for 4 weeks. Then I noticed it was only 2-3 days of sore muscles. Then I started going twice a week. I noticed every time I went I could do a little more and last a little longer. And then the "12 Week Summer Challenge" came up and I figure what the heck, I will try it. If it gets too hard I can quit like I have every other workout that I ever started. But WLG was different, they made you want to go.

I committed myself to going 4 to sometimes 5 times a week and on the days I didn't go, I would walk, ride a bike or do some sort of workout for one hour. As Kendra always says "It's ONE hour people you can do anything for ONE hour". I could give myself one hour, one hour devoted to just me. I wanted to be stronger, healthier and I wanted to feel better. This one hour attitude has changed everything for me. I could not have done it without this entire WLG team. I can honestly say that I feel so much healthier and stronger. I have seen my body transform into a stronger leaner me. I have lost 21.5 lbs., 16.5 inches and 9.1 % of body fat in 12 weeks. That is just crazy to me. I have no more hip pain and little to no back pain now. I know my limits and WLG has given me modifications on certain exercises. I still have a journey ahead of me but what I have accomplished in 12 weeks amazes me. Only time will tell what the next 12 weeks will bring or even the next year. I can't wait to find out. This is a journey and a life style change. The support that you receive is amazing. I have used all the excuses like "I will start next week" or "I don't have enough time in my day", "I'm too tired" and "my hip and back hurt", trust me, I have used them all. It is time to make a change and if you're ready, this is the place to get started. No matter your age or your weight, it's all about attitude and the right people.
​
Thank you to my new WLG Family!

​Shari Neighoff, WLG Athlete
---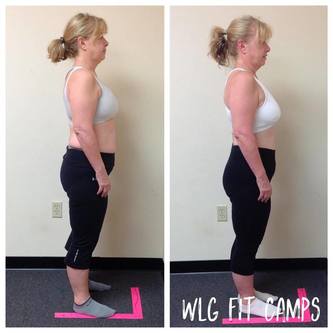 Deborah Krueger
2nd Place (Age 51-70) 2 Months FREE WLG Training Mon-Friday

- 23.5 lbs. LOST
- 9 inches LOST
- 12.5% bodyweight GONE

​I've been attending WLG classes for over four years now! I'm a pretty steady M/W/Th/F/S gal thanks to the steadfast support from everyone in my early morning classes. In my four years here I've participated in each challenge. I've seen many friends win in many different categories and have been inspired by each of them! While I've successfully lost weight and gained muscle in each challenge I always fell a little short (12 weeks is a long time!). This time I was determined to remain committed every day of every week for the entire 12 weeks. My vigilance helped me come in 2nd place in my age group (hey, it's harder to lose weight the older you get!).

​The key to my success? I worked the program. I wrote down everything I ate (for 12 weeks), followed the meal plan which allowed me to treat my family to lots of new recipes (for 12 weeks), attended class (5x a week for 12 weeks), completed the bonus points (for 12 weeks), weighed myself regularly (yes, for 12 weeks!) and leaned on my fellow challenge participants, especially Jen DuLaney and my coaches especially LaneAnn and Tracie. They say it takes a village and for me it certainly DID!

Debbie Krueger, WLG Athlete
---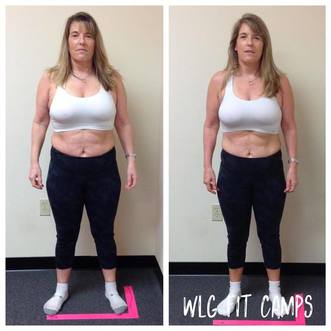 Skye Savageaux
3rd Place (Age 51-70) One Month FREE WLG Training Mon-Friday

- 18 lbs. LOST
- 8.5 inches LOST
- 6% body fat LOST
- 11.1% bodyweight GONE
​​
The last two years have presented some personal challenges for me. My son is autistic, and getting him through middle school has been very difficult. I've not taken very good care of myself, stress eating and avoiding exercise, to the point that when I had my yearly physical the doctor said I was not only overweight, but now have high cholesterol. I've always been healthy and worked out, so this made me very angry!

Signing up for the twelve week challenge was my way of getting back on track. Kendra and her team are highly motivating, and I was determined to get myself back in shape, and start taking care of me again. One month later I am still eating well, and have lost an additional 2-3 pounds! Thanks Kendra, I think you're terrific, and have so much fun participating in your classes. Thanks for everything!

Skye Savageaux, WLG Athlete
---