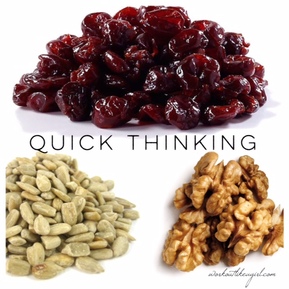 Food For Thought! Want to help yourself to think fast on your feet! Here's a quick snack to help you do just that!

7 halved walnuts + 1 tbsp. sunflower seeds + 2 tbsp. dried cherries = Quick Thinking

The ingredients in this homemade trail mix burst with anti-inflammatory agents that improve brain function. Omega-3 fatty acids in walnuts have also been shown to boost learning and memory and their vitamin E shields cells from damage caused by free radials.