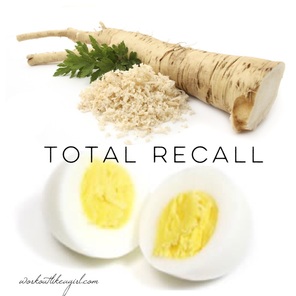 Food For Thought! Want to help yourself with better memory! Here's a quick snack to help you do just that!

1 hard-boiled egg + 1/2 tsp. horseradish = Total Recall

Choline, an essential nutrient found in yolks, is key to maintaining memory because it encourages clear communication between brain cells. Eggs also have vitamin D, a necessity for neural function. For more zing and extra support for cell growth mix the yolk with horseradish.