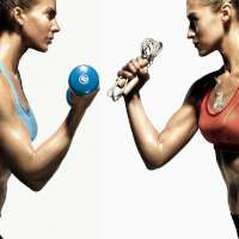 So, I see it all the time. Two friends join a training program. They are super GUNG HO - Thelma and Louise style - hand in hand with their water bottles and towels. They come together ready to change their lives. They run the warm up together. They always pair up for drills. They even stretch after class together. All good right? Yes...
and well no
. But before you throw your hands up at the computer screen, hear me out. First off, I am not going to tell you the buddy system is bad. Whatever (and I meant whatever) it takes to persuade you to get off the couch, take action and start MOVING, is a great idea to me! However, I do want you and your friend to sit down and make some personal goals that are separate from your each others. More often than not, when Friend #1 decides maybe she is not ready to give 100% to his/her training program, then there is a 50/50 chance that Friend #2 will also.
Now, how do you PREPARE and/or PREVENT for that? Well here are few things to help you as you head out:
Don't use your training time as social hour. That means stay true to the desire to make this new routine YOUR habit, not just another chance to chit chat. That's what phones and lunch dates are for. This is your time to train. To get better. To get in YOUR zone. I am a firm believer that if you can talk, you are NOT working hard enough. Ever. If you not training hard enough you will not get results you want and therefore will lose interest. But hey, I am not trying to be fun sponge and tell you not to socialize, just know when to do it and when you get your head in the game.
Don't hold back in your training sessions, even if your friend is not quite there yet. Remember we all have our own fitness paths and IT'S OKAY if they are not the same place at the same time. Action is key and if YOU (whether you are Friend #1 or #2) are giving 100% then don't feel bad if you are pushing harder then them or vice verse at any given moment. We all have own personal glory moments when we accomplish something with didn't think we ever could. Be proud of each other and give each other praise. Fitness is a journey much more enjoyable with people who build each other up.
Don't NOT go to your training session if they bail on you. That right there is the beginning of the end. If your sessions are for the comfort of someone else then they are NOT for you and you alone. It has to be for you and only you. It's your private time. It's your chance to be selfish and do something that only you can benefit from. Trust me friends occasionally flake out on certain days, just prepare to figure it out that evening alone. #FIOBABY
Do embrace being alone while you train. I know most things are more enjoyable together. Misery loves company. It's so much easier to push when you have your friend there sucking wind with you, but never forget your "other" family. Your Fit Family. We are all there for the same purpose. To get better. To get moving. To get sweating. To feel great just do it again THE NEXT DAY. So on that night where you go venture out alone, just get in there and go. You will be amazed who you just might strike up a conversation with and learn a little more about. That's how friendships are formed right? Gotta start somewhere.
Do embrace that results from this new commitment will take time. Be patient with yourself and go into your training session with a realistic idea of where you are RIGHT NOW. With habit you will be somewhere else sooner than if you did nothing. Be kind to yourself and your friend. You might be the one needing the pep talk or giving it, but nonetheless accept it. The sooner you both do the sooner you will be much happier - together or alone - with the process.
Do accept the fact that your buddy might ditch training altogether. Life is about choices. If their choices is to go back to sitting around and bitching about starting a workout program, then you need to say "No dice!" and steady the course. No one ever wants to START a program... you want to be IN A PROGRAM! If your friend makes you feel bad about sticking with something long after the interest level has peaked, recognize it has more to do with where they are in life than you. Don't get sucked into that. We are all adults here.
Don't let your friends choices sabotage your personal goals. Two of my favorite sayings are "You are what you eat" and "You cannot out train a bad diet". Both so true. As much as I love the concept that if you and your friend each the same crappy item at the exact same time then it doesn't count. The same holds true if you don't feel bad about skipping YOUR training session because your friend did it as well. That's the beginning of a slippery slope.
At the end of the day, remember life is too short to be anything but happy. So if today is the day that you decide you are starting anew - than GREAT! Pick up the phone. Call a friend and go. If your friend is busy - GO ANYWAY! Never pass on that "feeling". You can't buy that. Once you start, you must keep going. You never know who you will inspire. Love all your faces.
XOXOX, K