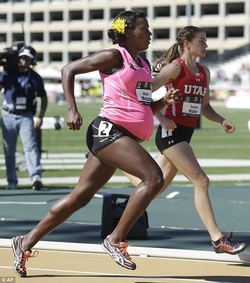 Five-time US track and field champion Alysia Montaño is famous for wearing a flower in her hair during races: a practice she started during childhood to show the boys she was racing against that "running like a girl" doesn't mean slow or soft -- "it means that you're strong." This week, Montaño demonstrated once again the strength and determination of women athletes: on Thursday, at the US Outdoor Track and Field Championships in Sacramento, California, she ran the 800 meter race while almost 8 months pregnant!
The Olympic athlete has consulted with her doctor throughout her pregnancy about whether she could maintain her strenuous training regimen: not only was she told it would be safe, her doctor actively encouraged her to exercise as much as she felt able to. "That took away any fear of what the outside world might think about a woman running during her pregnancy," Montaño explained. "I did all the things I normally do ... I just happened to be pregnant. This is my normal this year." She added that, "I know there is a lot of stigma and really, the word is ignorance, behind pregnant women and exercising. And the truth is, it's good for the mom and the baby."
Montaño told Olympic Talk that "I've been running through my entire pregnancy, and I felt really, really good during the whole process. I definitely was like, OK, I think I can run a pretty decent time... I just knew I didn't want to get lapped, be the first person to ever get lapped in an 800-meter." She never got close to getting lapped, setting a solid, steady pace from the beginning. She came in last place with a final time of 2:32, 35 seconds off her personal best but her determination thrilled the crowds at the championship, who began cheering when she finished her first lap, and then gave her a standing ovation when she crossed the finish line.
One of Montaño's long-term ambitions is to open a family-oriented personal fitness studio where parents can bring their children along to keep fit too. She explained that, "I want to teach people about exercise and fitness and how it can be really fun, and I want to help parents educate their children about it, because that's where everything starts."
Article courtesy of amightygirl.com
To read more about Montaño's race and the latest on research on running during pregnancy, visit the Daily Mail at
http://dailym.ai/1mDup3i
For a wonderful story that celebrates girls who like to run, check out the bilingual picture book for ages 4 to 8: "We Are Girls Who Love to Run / Somos Chicas Y a Nosostras Nos Encanta Correr" at
http://www.amightygirl.com/we-are-girls-who-love-to-run
If your Mighty Girl loves sports, you can find stories of female sports trailblazers, including track & field greats like Wilma Rudolph and Alice Coachman, in our "Sports / Games" section at
http://www.amightygirl.com/books/general-interest/sports-games
If your Mighty Girl is also an athlete, you can find girl-empowering t-shirts that show off her love of sports in our "Sports/Hobbies" t-shirt section at
http://www.amightygirl.com/clothing?clothing_themes=145
And, for stories about girls and women who, like Montaño, demonstrate incredible determination, visit our "Perseverance" section at
http://www.amightygirl.com/books/personal-development/values?cat=219
Photo credit: AP Photo/Rich Pedroncelli