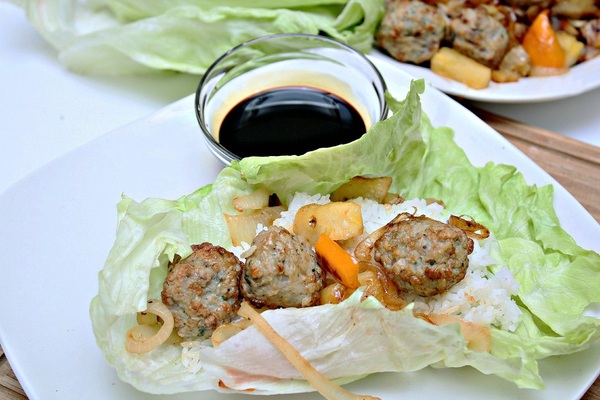 Ingredients
1 lb ground beef
2 green onions, sliced using both white and green parts
2 tablespoons coconut aminos or gluten free soy sauce
2 cloves garlic, minced
1 teaspoon grated fresh ginger or ¼ teaspoon ground ginger
1 teaspoon toasted sesame oil
½ cup pineapple, finely diced
1 cup shredded carrots (about 1 large carrot)
optional toppings: toasted sesame seeds, extra green onion, cilantro
Instructions
Preheat oven to 400 degrees F.
Mix all ingredients together in a bowl.
Form into golf ball sized meatballs (makes about 18-20).
Place meatballs in a baking dish and bake for 20 minutes or until meatballs are cooked through and slightly browned on top. Top with optional toppings and enjoy!
Pineapple Ginger Coleslaw .
Try with this Pineapple Ginger Coleslaw
Recipe:
Mix together:
2 cups coleslaw
1/4 cup mayo or you could use Greek Yogurt
1/2 cup diced pineapple
1 green onion, sliced using both white and green parts
1/2 teaspoon grated fresh ginger
Juice of ½ limeRecipe:
Recipe Courtesy of primallyinspired.com