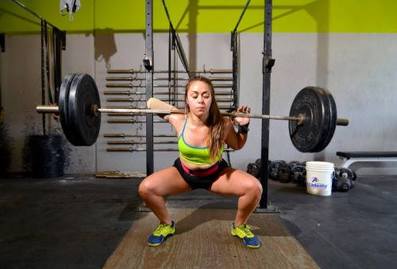 "There is no red line. You can always do more."
Krystal Cantu is a 25-year-old competitive Crossfit Athlete. She came to Crossfit only a year ago, in 2014, and fell in love with the sport after just one class. She and her coaches soon realized she had the potential to compete. Just a few months into her training and 17 days before her first competition, however, Krystal lost her right arm.
Krystal and her boyfriend, Daniel, were driving when his tire blew out. Her right arm went through the window and was crushed between the car and the road. Due to extensive damage to the blood vessels, Krystal's arm was amputated in the middle of her humerus. She was released from the hospital after three days and, incredibly, returned to training only a month later.
Pushing any negativity and self-pity aside, Krystal focused on the movements her body remembered and began adapting. She focused on finding her balance with one arm and strengthening her core in order to continue training in the sport she loves. Three months after her accident, Krystal competed in her first Crossfit competition which only solidified her commitment and determination.
Krystal's most recent back squat PR is 215 lbs and her latest front squat PR is 195 lbs. She was chosen to be a sponsored athlete by 1st Phorm, a supplement company. She has competed in the adapted Crossfit competition, Working Wounded Games and hopes to compete in the adapted Crossfit Games. She also has her eyes on the Paralympics.
Despite a seemingly huge obstacle, Krystal's attitude and resolve helps her persevere. She stated, "I train because every day I see improvements. Every day I get stronger and every day I prove to myself that the human body is an amazing thing when you have the right mindset. Never make excuses."
Sources:
http://www.bodybuilding.com/fun/krystal-cantu-one-arm-no-excuses.html
http://games.crossfit.com/athlete/233839