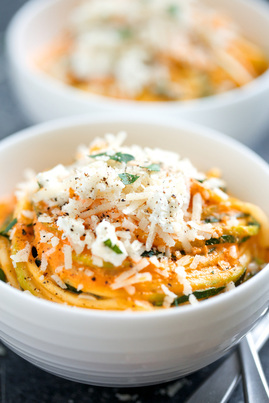 Ingredients
Creamy Roasted Red Pepper Sauce:
2 roasted red peppers, weighing 8 ounces
1 Tablespoon extra virgin olive oil
2 ounces of soft goat cheese, (usually labeled chevre)
1 Teaspoon sea salt
For the Zucchini Noodles:
¼ cup extra virgin olive oil
½ cup minced onion
2 cloves garlic, minced
1 Teaspoon sea salt
2 pounds zucchini, ends cut off and spiralized or cut into 'noodles'
Serve with:
chopped fresh parsley, freshly grated parmesan, extra goat cheese, and freshly ground black pepper
Instructions
You can use jarred bell peppers or make your own for this recipe, the instructions for roasting your own peppers are in the post.
Add the 2 roasted bell peppers to the blender with the rest of the sauce ingredients, and blend until smooth.
For the zucchini noodles, heat a large 15" deep sided skillet over medium high heat. When the skillet is hot, add the olive oil, onion, and garlic - sauté for a minute or two until the onion is softened but not browned. Add the sea salt and zucchini noodles to the skillet and sauté using a pair of non-stick tongs to toss the noodles. Just as the zucchini noodles begin to soften, but before they start shedding water, add the sauce and cook just until the sauce is heated.
Adjust the salt to your taste, and serve immediately with the freshly chopped parsley, grated parmesan, extra goat cheese, and freshly ground black pepper.
Notes -
To spiralize the zucchini for this recipe, I used the smallest blade (1/8") on a Paderno 3-blade spiralizer.
Read more:
Creamy Roasted Red Pepper Zucchini Noodles | GI 365
http://gi365.co/food/creamy-roasted-red-pepper-zucchini-noodles/#ixzz3eMUHdXPD
THIS CONTENT IS COPYRIGHT PROTECTED © 2013 - 2014 GI365. All Rights Reserved - PLEASE FEEL FREE TO SHARE THIS CONTENT, JUST DON'T DELETE THE ATTRIBUTION LINKS PLEASE - GI 365 | Gourmet Innovations For Everyday Life!
Follow us:
@GI_365 on Twitter
|
GI365 on Facebook